Back on Stage
Covid-19 swept across the world and brought a variety of changes with it. For Hudson High's Drama Society, it provided a plethora of challenges. In March of 2020, the spring musical Peter Pan was canceled, while the 2021 spring musical, The Little Mermaid Jr, was performed online. Now, Drama Society is navigating the stage back in person.
However, the scene isn't the only change the pandemic has incurred.
"[Drama society] has gotten smaller, mostly due to Covid." Vice President Morgan Weatherbee said. "We are looking for people to come back and revitalize their love for theatre."
"We are covid conscious… We've been adapting," Cassia Andrade, a member of Drama Society, said.
Masks are required for all during rehearsals and performances. However, many agree that doing so is not easy.
"Having to portray emotions with a mask is very difficult," Weatherbee mentioned.
"We've tried different things," Andrade said. For example, in the fall play, Spoon River Anthology, performers sported clear masks.
"We got good feedback from the audience," Andrade added.
However, she mentioned that the cast did not echo the same sentiments, as the masks got foggy and many times were "disgusting."
Lauren Schiavone, President of Drama Society, said that the masks "made it more creepy".
Regardless of masks, many mentioned that it was good to finally be back in person.
"It didn't feel like we were performing together," Secretary Marcos Godoy stated, as actors performed from the safety of their own homes. Covid-19 has not been the only thing to change Drama Society, as this school year features a new director.
Along with a change in leadership, the entire crew has changed, including the choreographer, costume director, as well as music director.
"Some of the upperclassmen have had to adjust. " Weatherbee continued, "However it can be a fresh look."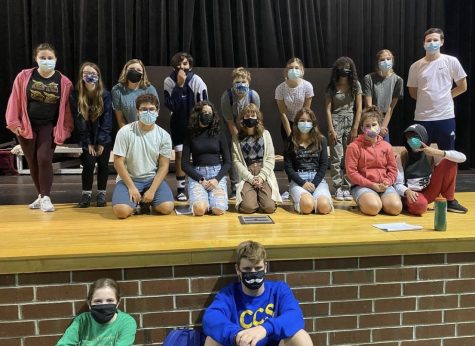 With all the refashioning of the society, many are excited for a recurring event: Class plays.
Each grade performs a play, usually about 30 minutes long. It's a "friendly competition between grades," Weatherbee added.
Many mentioned that they didn't require as much commitment as the other shows, making it the "best way for getting into theatre".
In fact, it was the first show that Schiavone did in her 8th-grade year.
"It's just a whole new crowd," Andrade said. She enjoyed being able to see her peers grow into Drama Society in the past.
"I think people are going to have fun with it," Weatherbee said.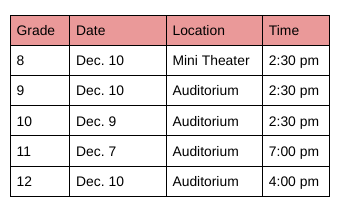 Another upcoming show is Tracks which will be performed for the METG competition. Auditions were on Dec. 6 at 7:00 pm in the auditorium.
"It's like dance moms," Godoy said.
Announcements like these are made in the Drama Society meetings, which are once a month on Wednesday after school in the Auditorium.
After announcements are made, drama games ensue.
This month, Drama Society is doing Secret Santa, a change from the previous years of a Yankee Swap.
"Secret Santa is way more personal," Schiavone stated. She continued, "It's a way to get to know people."
While Secret Santa can help strengthen relationships, Drama Society already has a great bond between its members.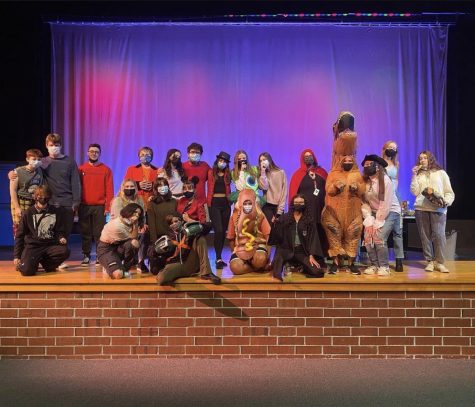 "They [Drama Society] honestly are my second family," Andrade said.
Godoy agreed. "There is an openness most of us don't feel at school."
Many agreed that it was a community with a place for everyone.
"We spend a lot of time with each other every day," Schiavone mentioned.
"We connect and bond over our love of acting, singing and performing," Andrade said.
Schiavone, who had done theatre at other schools, said that while it was really fun, it "wasn't the same as Hudson."
She added how Drama Society has a good amount of freshmen, even though their first year of theatre at the high school was all virtual. "We have a really great group of kids."
"It's a really fun community." Weatherbee continued, "You can become really close with so many people."
"You are guaranteed to make friends," Godoy said.
He concluded, "Come be a star and live out your high school musical dreams."