Lights, Camera, Hudson!
The Cast of Defending Jacob Takes On Hudson for Filming
Chris Evans walked the streets of Hudson as Andy Barber in Defending Jacob, an eight-episode series being filmed in Massachusetts based off of the novel of the same name by William Landay this past April 1. 
The cast and crew could be found on School Street and in Robinson's Hardware and Rental for their day of filming.
"We have to close for the day of filming, which is always a long one," Kim Underwood, the Owner of Robinson's said, "The crew was in the building at 4:45 am and didn't leave until after 8 pm."
She further explained the joy it brings the store.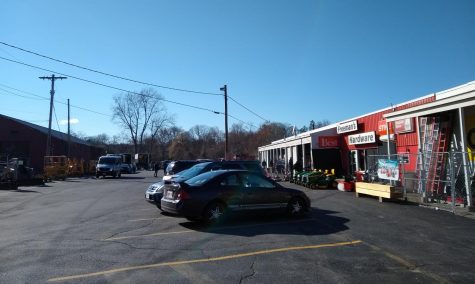 "Robinsons Hardware & Rental was excited to be used as a location for the filming of Defending Jacob," Underwood said, "This was the second time we have been in pictures, playing a prominent role in a scene from Netflix's Father of the Year that was filmed last year."
People who stopped by were able to watch what elements are pulled into making a show as director Morton Tyldum walked around the set making sure every scene would be perfect before shooting it.
Some stopped to watch like sophomore, Julia Beatty, who waited for six hours in the freezing temperatures, were able to go on set and see everything in action
"There were a lot of people involved in the process," Beatty said, "There were cameramen, makeup artists, and lights."
"The crew for Defending Jacob was roughly 150 people and they were all over the store," Underwood explained.
Each person on the set had a specific job and many out of the ordinary things came into Hudson for the shooting, Assistant Location Manager for Paramount Television, Joe Piasccki helped scout for the location, and provided information not only about why they were filming, but gave a little insight to what it was like.
"He was really helpful and explained how he got into making movies," sophomore, Melissa Perry who got the chance to talk to him said.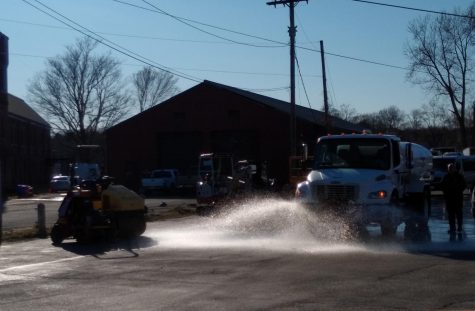 At the Elk's Club campers were lined up which held those in the cast who were waiting for their scenes, vans would escort these people on and off the set when it was their time.
Residents could also see a water truck which coated the parking lot of Robinson's with a fine layer of water which would reflect the faces of the actors as they walked the lot.
Tyldum took five minutes to specifically relocate the cars that sat outside Robinson's making sure each fit the exact vision he was trying to recreate through the film.
"Being on the set was really cool," Beatty said, "You got to see everything in action."
She saw how the extras had to create their own personalities and how each individual impacted the show.
"You can't just have the director or actor," Beatty said, "You need every little part for it to become a success."
Underwood was able to see the actors up close as well.
"Getting to see an actor perform is interesting," Underwood explained,  "Watching as their persona changes from who they are to who they're portraying on screen is an amazing metamorphosis."
Though all the actors are needed to bring the piece together, Chris Evans made this experience extraordinary for Beatty.
"It's probably the most exciting thing that's ever happened in Hudson," Beatty said, "It's the most interesting thing that's ever happened to me."
Leave a Comment
About the Contributor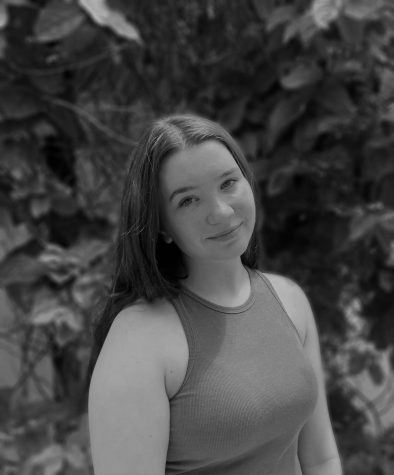 Veronica Mildish, Editor-in-Chief
Veronica Mildish, member of the Class of 2021, is a fourth-year editor for The Big Red. Since joining the editorial staff her freshman year, Mildish's...