Freshman Maya Harrington has made a major impact in the Drama Society by landing a leading role as Regina George in the musical Mean Girls within her first year at Hudson High. 
As the line from the movie goes, "Regina George is the queen bee." but in reality, she is so much more than that." 
Harrington would never be characterized as the queen of the means here at HHS, but she's excited to take on the role.
"She's the main plastic or 'mean girl'," Harrington speaks on Regina's character, "No one really likes her- everyone is afraid of her. Towards the end she talks about how she never really realized she was the mean one, she was just trying to protect herself in a way. Regina, towards the end, realizes a lot of people didn't ever think of her as a human person,"
Through experience, hard work, and a big heart, Harrington secured the role of Regina George as a freshman. 
While most people know Regina George, only a few people know Maya Harrington. She recently transferred back into the school district for the 2023-2024 school year after being homeschooled for the last several years. 
Who is Maya Harrington? 
"I'm a theater kid. I started taking voice lessons when I was six," Harrington started, "When I was little, I would sing 24/7. I would belt out "Let It Go", really off-key, but thought I was Elsa."
Harrington is no stranger to lead roles. At eight years old, she played Aladdin in the Rivers Edge Arts Alliance performance of Aladdin in her first ever show. Soon after this show, she realized this was what she wanted to do for a job. 
Harrington said, "Obviously it's not my job yet but I really want to go into college for community theater, that's something I've always longed to do."
After her first show, the rest came fast. Between a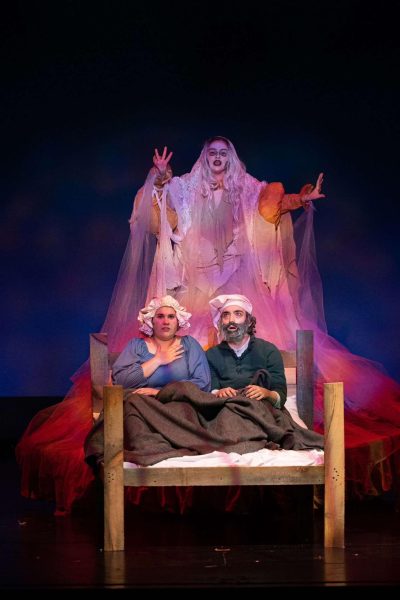 production of Tuck Everlasting, James and the Giant Peach, Annie (twice), and Fiddler on the Roof, Harrington has been on stage for ages and is now a part of the Youth Acting Company at the Hanover Theater.
With the closing of James and the Giant Peach, Harrington now dedicates her free time to Mean Girls. 
"Mean Girls: It's very much an explanation that even people who could be considered mean also have insecurities themselves," Harrington said. 
This hit 2000's movie turned musical has been performed all over the world, and now Hudson High has taken on this show. 
"I was really surprised, I was obviously really excited because I work really hard," Harrington said on landing the role of Regina, "Getting this role was just really exciting because these past few months I've gotten some not-great news from shows I've auditioned for." 
While Harrington considers Regina George one of her dream roles, another would be Sally Bowles from Cabaret. 
Harrington encourages everyone to come see Mean Girls to see the hard work the cast and crew have put in, and to learn an important lesson. 
"I think the musical of Mean Girls and the movie is there to say 'Hey, just because someone looks really confident on the outside, really everyone is insecure in some way. And to just be yourself. One of the songs in the show is I'd Rather Be Me, which is one of the main themes of the whole show."