Big Canvas, Small Business
Sitting in dim light, with the only illumination coming from the overcast sky through the glass french doors and skylight, Loralyn DiDucca outlines a Maltese dog. With each question asked, a new stroke of color danced across the canvas. 
In October of 2020, DiDucca started her pet art business after a friend wanted a canvas portrait of her dog who had just passed away. Taking that love of painting further, she named her small business J.C Pet Portraits, after her two childhood dogs Jacob and Chloe who passed in recent years.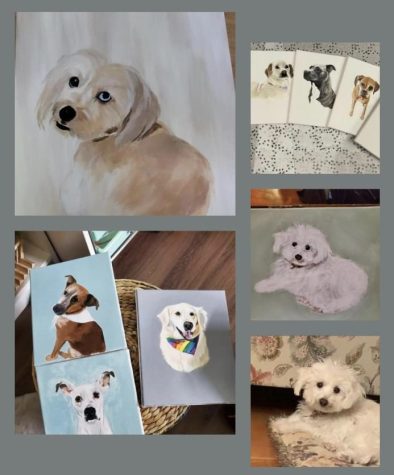 After her mom's Facebook post advertising the business, it soon became a success.
"From the beginning, it was a hit, it's now settled down. I'm working on a website right now to expand my business and also I know somebody that has space available for me to display my paintings," DiDucca said.
We listen to Lewis Capaldi, as I watch her finish the eye color of the dog. She mixes dark yellow and dark brown to get a rich chocolate color. I ask why she doesn't just use regular brown paint. She explains that with a painting you never use solid colors that are too specific even though in the portraits it looks like you do. You need to mix multiple to get the correct shade and add layers.  Why did you pick a Pet Portrait business? I asked. "Pets are something everyone can relate to as it has a more broad audience, dogs, pig, parrot anything." 
Mixing various colors such as mustard yellow, white and brown, she creates a frame around the dog's ears and eyes. And here I thought the dog was just plain white. 
With her business being immediately successful, DiDucca has been looking about expanding with a variety of clients and growing her personnel. Sweet Paws Rescue is a registered non-profit organization that rescues abandoned and displaced pets who wouldn't have a chance at life otherwise. While their main location is in Massachusetts, they are also based in Mississippi and Alabama.
 "From the start, it was just family and friends but then I came in contact with Sweet Paws Rescue in Massachusetts. They reached out to me because a family friend saw my mom's Facebook post about my portraits and she actually worked with them. People within their dog rescue company found out about it and it became an instant hit."
So far, DiDucca has painted 70 pet portraits in the past year and a half. But with great success comes a lot of responsibility.
While Loralyn spends a lot of her time painting and making art, she is also a school athlete, Regional Champion horseback rider,  and part-time tennis coach. She is taking multiple AP classes leaving her with at least two hours of homework every day.  How do you balance this with all your extracurricular activities? I asked. 
"It can be stressful at times. I usually work on my paintings during the weekends, vacations are best, and If I need to ill work on them during the week. I will always make time for my painting"
Knowing that DiDucca listens to rap and alternative music, I'm surprised when the song Yellow by Coldplay comes on followed by Ed Sheeran's SuperMarket Flowers. Why such sad music? I asked.
"As this is one of my stress relievers, painting is a very calming thing to do and sad music goes with the vibe of that. Rap music would be too distracting. It wouldn't go with painting a person's dead dog," she answered while shaping the way the fur is going down the face with multiple colors. Transforming the dog from just a picture to realistic.
Additionally, while managing her art business, Loralyn DiDucca has been a Girl Scout for 14 years and is working toward her Gold Award. The Gold award is the highest accomplishment in Girl Scouts where you are trying to make an impact on a community. It is very prestigious as every year only 5% of eligible girls obtain this award. Loralyn has been designing a stuffed animal for kids in pediatric hospitals and is working with Boston Children's Hospital.
"I chose to design a stuffed animal because I think it's important for kids to use their creativity and feel supported by something that they can cuddle with which is sometimes better than a hand to hold. This impacts me because I can easily express my creativity with it. I can now  share my ideas with other people and also have an impact in the medical world which is the profession I want to go into." Even with her talent, DiDucca was not interested in an art career in the future.
With generations of family members in the medical field, DiDucca was always inspired to help people. Even watching her favorite show, Grey's Anatomy while painting was a great pastime.  "Painting someone's pet for them that they've lost or being a Doctor where you can assist someone going through medical challenges have always felt sentimental. 
"I like seeing people happy when they receive their paintings and I hope to make people happy when I become a doctor someday."