Seas-ing the Moment
The show must go on…line! Drama Society's Virtual Musical
Five minutes to places. A warning that leaves every actor with butterflies in their stomach. This year, instead of receiving the notice backstage in their dressing rooms, the cast of The Little Mermaid Jr. await the premiere of the classic Disney musical at home.
The company rehearsed, filmed and finalized the musical in remote environments apart from one another.
"There were definitely so many challenges with this show," said senior Maia Frias, who plays Sebastian. "We first had to learn how to use all of the different recording apps and editing platforms as well as learn how to act by yourself with no one else to play off of."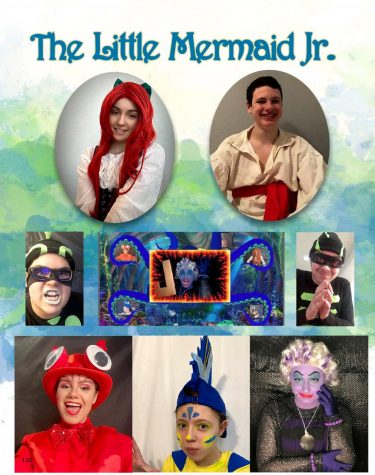 The show brought new difficulties for the directors as well.
"Was it hard? Yes," said director Kathleen McKenzie, "But every layer, every frame, every movement you see, it was my choice. I wanted it there."
Much time was put into this production as the last three months were spent filming, while students rehearsed Mondays, Wednesdays and Thursdays, from 3:00-5:00 p.m. almost every week.
Each minute of footage equalled roughly eight hours of pre and post-production including rehearsals, recording, music and video editing McKenzie said.
Challenges were not only apparent in the technical aspects, but also acting out the scenes themselves.
"On stage you get to build off of each other and really interact with one another which helps make your scenes feel more real," Frias said, "But for this show it was hard to do that as we recorded parts separately without anyone else in the room."
Some saw this new setting as an opportunity.
"It feels different but it feels like something fresh and new which is both exciting and nerve-racking," said freshman Chase Buldoc, who plays Prince Eric, "I have my whole life to do 'normal' shows while this is probably one of my only virtual ones."
With it being virtual, the cast had to film around their houses, even if the rooms were not equipped for a performance venue. 
"The thing that's most weird for me is we have to record…at home," said senior Julia Stukonis, who plays Pilot, "My parents could hear what I was saying or hear what I was singing, and they were just like 'what are you doing?'"
Despite this oddity, they still made memories.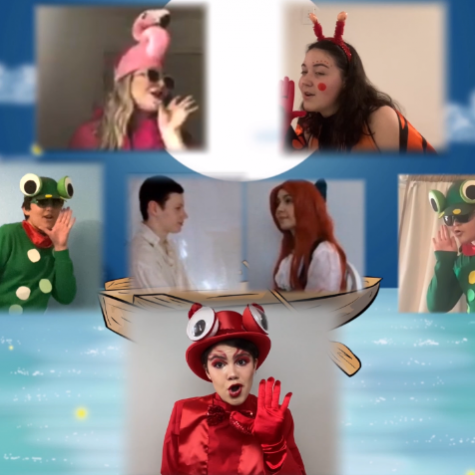 "My favorite memory from the show was the very last rehearsal," said Jake Marrazzo who plays Grimsby, "It was really surreal thinking that I was about to speak my last words as a character in a Drama Society musical. Even though it was virtual, I still felt it. It was a great show to go out on."
Another castmate reflected on a similar experience.
"One of the most memorable days for me was when we blocked and learned the last few numbers of the show which everyone was a part of," said senior Lauren Lattanzi who plays Aquata and Chef Louis, "It was one of the first times everyone in the cast was called to a rehearsal and it was really great to be able to interact and work with everyone."
Days like this brought a unity to the cast.
"I still feel like we made connections with everyone even though it was through Google Meet and I think that's really special," said senior Kayla Popovich, who plays Allana and other ensemble characters.
The cast was able to incorporate humor into the rehearsal process.
"We made the most of what we had, and we still made jokes with each other, and sarcastically made fun of each other, it's a thing we do," Stukonis said.
"We joke a lot with each other, even when we have in-person rehearsals, and the fact that we were still able to do that, that was really special," Popovich added.
The production, though filmed remotely, was able to bring the cast together.
"This season still needed to happen because of how the arts make people feel," Frias said, "Not only does putting on a show make the performers and everyone else involved happy, but it gives audience members and the community a good escape."
The cast seems to share a similar mindset.
"It feels much different doing a virtual show," Marrazzo said, "You can't do as much as you could on stage, but the feeling of musical theatre joy is still there and not even COVID can take it away from us."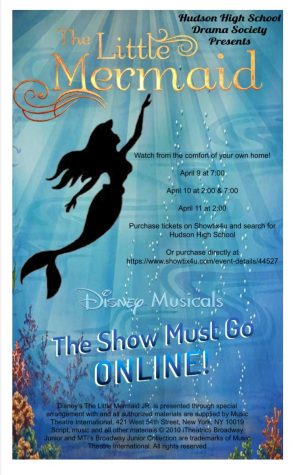 The show airs April 9 at 7:00p.m., April 10  at 2:00 p.m. and 7:00 p.m., and April 11 at 2:00 p.m., tickets are $12.89 per device per performance and those who purchase tickets will get a unique link for the show.