High School Musical: The End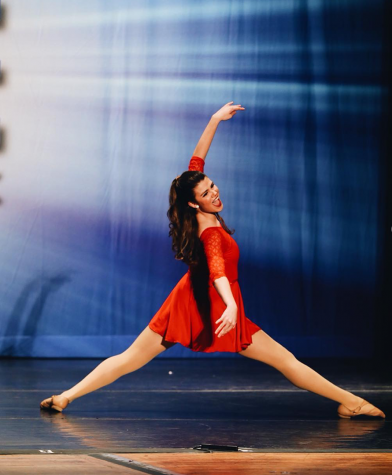 Senior Maia Frias recently ended what she refers to as "hell, but it's called college applications and auditions."
Frias applied to over 30 schools. She worked hard to get into musical theatre programs, many of which have around a 2 percent acceptance rate.
Not only did she have to prepare for the audition required to get into the musical theatre program, but also needed to get accepted into the school academically.
Frias has committed to Long Island University, where she will earn a Bachelor of Fine Arts in Musical Theatre. LIU is one of the top musical theatre schools in the country.
Looking back on how she got here, Frias's long journey in musical theatre began with dance. 
"I have always been a dancer," she said. "I would be at the studio every day of the week."
However, Frias claimed that she was "mediocre at singing, dancing and acting." Nevertheless, musical theatre, which is a combination of these aspects, was her strong suit. "I would always be in the back except in musical theatre numbers."
Her first big step into theatre, however, was in a show during the summer of her eighth-grade year. 
"I fell in love… I got the theatre bug really quick," she said. 
Frias joined Hudson High School Drama Society in her freshman year, her first show being Little Women, one of her many favorites. Frias expressed how nervous she was, especially since everyone else auditioning had been doing theatre since middle school. Her efforts were rewarded as she was cast as Meg. "I had so much fun because of the cast," said Frias. "It's Little Women, who doesn't love Little Women."
Another favorite production of hers was in Mary Poppins, where she played Nelius and Valentine. It was a role that she enjoyed and put much into, even needing to buy professional clown makeup. This was Frias's first show in which she had a solo. "I had a lot of self-doubt about that," she said. However, her doubts were simply doubts, as she was nominated for two TAMY awards regarding that performance.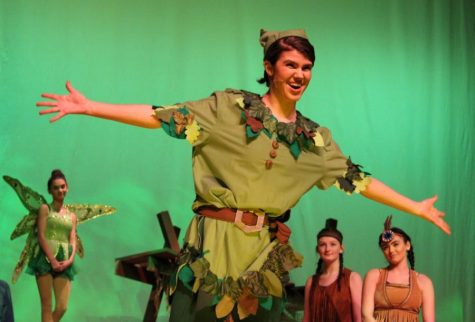 Another one of Frias's favorite roles was Peter Pan, where she played the lead. It was a challenge for Frias to play the boy who never grew up. 
"I put my heart and soul into it," she said. Not only that, but Frias chopped her hair off to become the character Peter Pan. 
However, Frias never had a chance to perform Peter Pan on stage, due to the pandemic. "I wish my parents could see Peter Pan," she said. 
This year, to work around the current pandemic restrictions, HHS Drama Society exited off stage and went online. The spring musical this year was  The Little Mermaid Jr, where Frias played Sebastian.
"Sebastian was a fun role but I hate doing theatre on a computer," Frias said. She expressed how grateful she is that Kathleen Mckenzie, the drama teacher at HHS, was able to get the online show to work, as many other schools did not have theatre at all.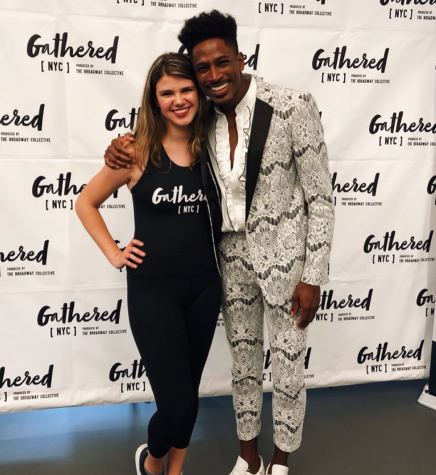 Frias's theatre journey was not exclusive to  Hudson though. In her sophomore year, Frias took a master class with the Broadway Collective, a musical theatre training program in which students get feedback from real Broadway
performers, directors, and choreographers.
"I had to sing in front of people, that was terrifying," Frias said. Frias exclaimed how she was singing in the same room as the girl who played Matilda on broadway.
Regardless of how nervous she was, Frias made it through the class, and continues to work with them with their online program this year. "It's a whole other online school."
"They [Broadway Collective] for sure changed my life," said Frias. "They made me realize that this [musical theatre] is something I can do in my life."
"I've definitely come a long way… I am still not 100 percent confident with my singing but it has gotten better with practice and taking risks."
Taking risks requires motivation, something that, for Frias, comes in the form of an office job. 
"I refuse to work a desk job," she said. "I think about working in an office and that just makes me want to puke." 
Instead of an office job, Frias hopes to be in the industry whether or not she performs. Her main goal is performing, however if and when she chooses to leave the stage, she hopes to become a casting director, or even "low key become Ms. McKenzie but on a college level."
While McKenzie is a common sight for her, Frias does dabble in other areas of the school. Frias is a class officer; the president in fact. Regardless of the amount of work, she loves it, perhaps because she is a "'I like things my way' type of person".
Frias believes that the student voice is important, especially seeing as her class of 2021 "haven't gotten anything." Because of this, Frias works hard to give seniors a year they deserve.
A big event that she and other class officers planned was the 100 days of School Celebration, marking the final countdown of their senior year, which was a hit. "I was crying.. I was so happy," she said.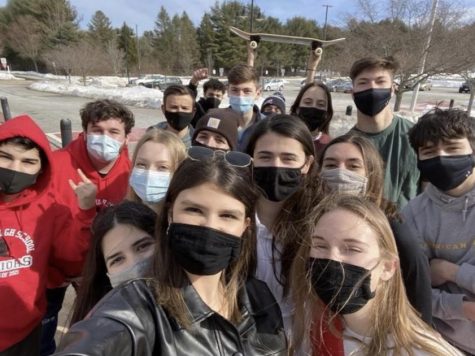 Frias is also the star of the Maia Gaga Music Videos. She met Marcos Godoy, the man behind the saga, through Drama Society. Frias found that she was bored and had nothing better to do, and jumped on the wagon. She expressed that while other people may feel embarrassed, she didn't. "I have this problem, well, sometimes it's a problem, sometimes it works…I don't care about what other people think about me… I just genuinely don't."
In fact, not caring is one of Frias's pieces of advice. "Do whatever you want 'cause nothing matters," she said. "Nobody cares about you, don't be embarrassed."
Frias's mindset did not just emerge from nowhere. She learned that everyone is busy worrying about themselves rather than everyone else.
Frias went to AMSA in grades 6 and 7.  "I absolutely hated it, I had no friends and I didn't fit in."
She did return to Hudson and then came to the high school in her 8th-grade year, "8th grade was rough, it was very strange."
She expressed how a lot had changed in the two years she had been gone, but in the end, it was the "best decision I ever made."
Her lack of fitting in has long since left the scene. "Maybe everyone doesn't consider me a friend, but everyone I talk to is my friend."
The one thing she will no doubt miss when she is off to college is that "there are so many people that I still want to say hi to…I just love everyone."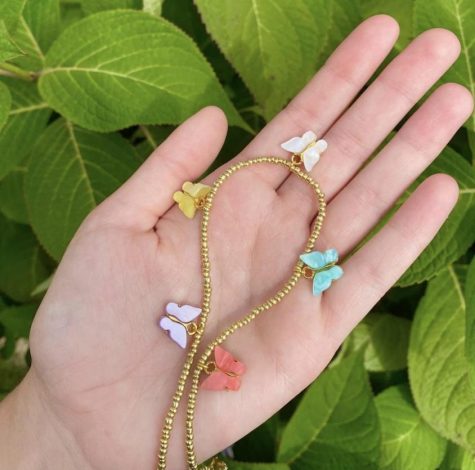 Frias considers her best friends Cam Burke and Lilla Gaffney who "call me out on stupid things but always support me." No matter how atrocious her actions may be, she says that "they are there for me."
Frias says that she not only loves her two best friends but also is proud of them as well.
Her heart also belongs to her family as well. She has a big family, with 2 sets of twin brothers. Frias especially wants to make her parents proud, as they have always been supportive. 
Frias loves the company of other people, loving to keep tokens of the memories in the form of polaroids that litter her wall.
In addition to polaroids, Frias's limited free time is filled with making jewelry for her store Beads2Train on Instagram, as well as her guilty pleasures; Glee and Keeping Up with the Kardashians.
Frias, who believes in speaking things into existence, has one big thing to say. "I am going to be on Broadway."