Dance Team Brings It On
HHS Dance Team adds Cheerleading to Their Repertoire
Pom-pom's waving in the air, a team clapping and chanting in sync are common occurrences at a football game. While the job is usually taken on by cheerleaders, this season the Dance Team settled into the sidelines.
"We didn't know about there being no cheer team until our season began," said senior dance team captain Molly Fahey. "Once our season started, we hadn't even decided to take on cheer yet."
As the season began no students had signed up to fill spots on the Cheer Team, which left a vacancy on the sidelines.
The Dance Team soon did immerse themselves into the familiar cheers, which added a new artistry to their original routines.
"None of us are cheerleaders, we're dancers," junior dance team captain Natalie Mollica said, "We were able to put our own spin on some cheers and it ended up being a lot of fun to try something different from what we usually do."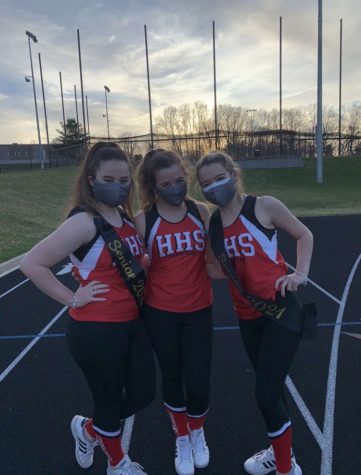 Together they practiced a new set of skills.
"The team as a whole hasn't done any type of cheering so we were all learning together and getting some laughs in," said senior dance team captain, Bianca Chaves.
"I was a bit skeptical at first but they ended up being fun for us and made our dancey-cheers more entertaining to watch," Mollica said.
With time they grew into the style.
"It's been a great opportunity to learn some new things and we get to dance more at the games," Chaves said, "this hasn't changed the style we perform in, just added to it." 
"Cheering has been really fun, we have taken to it really well. I would say it was something we didn't anticipate for this year, but it has been a really fun time for us," Fahey said.
Overall, the season brought a positive outlook for the team's future.
"I think this year was really important in uniting the teams and I'm so thankful we were able to have a season even though it was so much different than usual," Mollica said. "I'm very excited to see what the future of the HHS dance and cheer programs look like."