Masks on, Screens off
Hudson High students are slated to return on Monday, April 26 to full in-person learning.
"Coming back was inevitable," said English teacher Jennifer Wallingford. 
The change comes from new state guidelines released by the Massachusetts Commissioner of Education Jeffrey Riley: schools are to return to in-person learning. 
Hudson elementary schools as well as Quinn Middle School returned full time on April 5. All HPS students whose parents/guardians opted to keep them in the remote learning cohort are allowed to do so for the remainder of the 2020/2021 school year.
Schools shut down on March 13, 2020 due to the Coronavirus Pandemic. The final three months of the school last year were completed online. This fall, HPS introduced the hybrid learning model cohorts as well as the optional remote learning cohort for the 2020-2021 school year. 
With the commissioner's new directive, the hybrid model is eliminated, and in Hudson, the half-days on Wednesdays will be discontinued. Students and teachers have varying opinions on this return. 
"I have mixed emotions" said freshman Jordan Morse. "I've gotten so used to being on a Google Meet and wearing a mask," she continued. 
Jason Caron, band director and music teacher, said "It's mixed; I feel very anxious to see my students, I miss everyone very much."
"I am definitely excited to be back to finish the year! I can't wait to see my friends in Cohort B," senior Abby Genova said.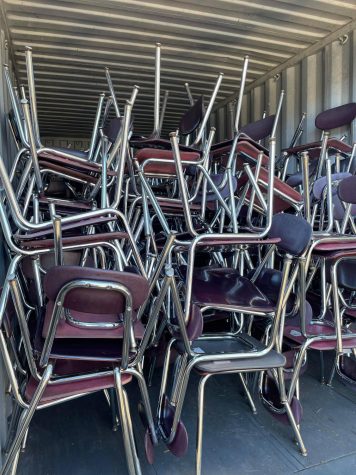 The hybrid model featured two days in person for cohort A while cohort B was remote and vice versa. Cohort C was in person four days a week. Cohort D included fully remote students.
Wednesdays were remote for all students and were half days with office hour time built in for students to get extra help. The schedule also changed from a seven-day waterfall rotation to a semester-based block schedule for this year.
The hybrid model has been very challenging for some students academically and emotionally.
"Coming back in the building will one hundred percent improve my academics because I have a hard time focusing at home," said sophomore Grayson MacDonald.
Morse, who was remote in semester one, agrees with MacDonald on the negative impact of remote learning on her emotionally. "When I was remote it didn't really feel like I was human anymore."
"It's sad that this is my first year of high school," eighth-grader Janie Brunelle said.
Teachers had to adapt to the hybrid schedule just as much as the students. "I miss students circling up and facing each other, I miss students talking at tables," said Wallingford. 
The classroom logistics have looked very different this past year as teachers taught simultaneously in person and to their students online. According to Caron, the biggest challenge is "the constant pivoting."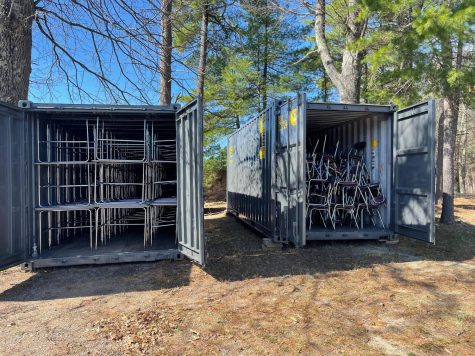 Another logistic included the rental of seven storage trailers to temporarily house furniture and miscellaneous equipment. In order to achieve optimal social distancing, over 300 desks and chairs were stored as well as classroom whiteboards and recycle bins.  According to Head Custodian Luis Antunes, approximately 275 of those desks and chairs will be moved back in on Wednesday, April 14.
Students and teachers alike miss seeing each other. Regardless of their nerves, they are ready to start anew. 
"The first week back will feel similar to the first week of school," said first-year biology teacher Patrick Horgan.
Safety is a concern brought up by both staff and students. The district continues to require masks and social distancing. Further, teachers continue to sanitize desks between classes and custodial staff conduct a deep clean using the GenEon mist equipment each evening. 
"Schools are doing a pretty good job," Horgan said in relation to current protocols. He also noted that the spread of the virus is lessening within the schools. 
Brunelle said, "I wouldn't be happy if everyone wasn't safe."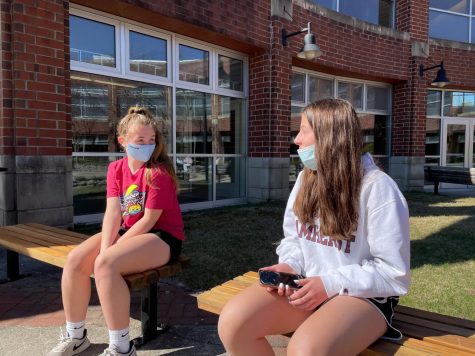 Many speculate what school will look like in person after April vacation. 
"I think academic habits are going to need to be reformed for some kids…like personal responsibility academic skills," said Wallingford.
Horgan believes that "the entire environment of the class will change."
Despite the challenges this past year brought, some students remain optimistic for what is to come.
"Although I am a little nervous about the transition from two to five days a week, I know it will be worth it," Genova said.