Lily Usherwood Wins Best Actress
Stepping out onto the stage was common for junior Lily Usherwood; walking on to accept an award was a little different.
"I started theater when I was four years old, the first musical I ever did was 'Beauty and the Beast'," Usherwood explained.
Her thoughts on theatre have changed a lot since then.
"When I was younger I felt that theater was more of a hobby," Usherwood said, "Now theater is what keeps me motivated and helps me feel alive."
Usherwood has focused a great deal of time on theatre and the parts she plays.
"The process of getting into a character consists of researching the character, looking at traits and qualities, practicing how they would talk, walk, act around others," Usherwood said, "To really get into a character I practice over and over again until I feel satisfied. I can tell I've practiced enough when I pick up some of the qualities of the character."
Mary Poppins was an exceptional role that challenged Usherwood in a new way.
"What differentiated Mary Poppins from other characters I've played in the past was that she had to be portrayed a very specific way," Usherwood explained, "In the past, I've usually played sassy, and outgoing roles, Mary Poppins was one of my first roles that was prim and proper."
This role made her practice a great amount, meeting with the music director and the director of Mount Wachusett Community College they made cuts to the song she would perform, "Practically Perfect," to make sure it fit the time frame and that it would present her well.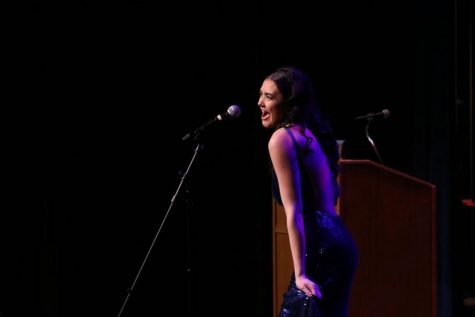 When she took the stage at the TAMY awards it was an experience like no other.
"Performing at the TAMY awards was an amazing experience and I am so grateful to be able to perform for the second year in a row," Usherwood continued, "It is a bigger crowd then I am usually used to so I was a little nervous, but since I was all dressed up and had my fellow drama society members, my director, choreographer, and family members there I felt a lot better."
For the future she plans to continue in theatre, and in college she plans to get a BFA in musical theatre and she'll start auditioning for professional theatre after that.
"What keeps me doing theater is the excitement, you never know what's going to happen. Being on stage gives me a rush, it's the one time where I don't have to be myself," Usherwood said, "Theater has always been a place where I can escape and always be genuinely happy."