Once Is Back and Ready to Steal Your Heart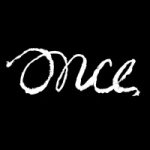 by Rebecca Shwartz
The musical Once ended its run at the Hanover Theater on February 5. Enda Walsh adapted the hit movie Once, which premiered in 2007, into one of the most popular musicals of all time. The musical alone has won over 5 awards. The show draws the audience in from the very first moment . With a new cast and songs that stick with you days after watching the musical, the show is not to be missed.
The story is based on two nameless musicians. They meet by chance in Dublin after the guy (Sam Cieri) prepares to ditch his guitar on the side of the street. The girl (Mackenzie Lesser-Roy) convinces him to continue with his dream. After stealing a piece of music from Cieri, Lesser-Roy performs the song, forces Cieri to perform and sing along, and manages to make him perform in front of an audience. Following their dreams, they pursue a record deal in hopes of a possible career in music with a ragtag group of other struggling musicians.
One of the most powerful songs performed at the beginning and end of the musical is "Falling Slowly." The song's inspirational lyrics – "Raise your hopeful voice you have a choice/you make it now" – showcase stunning harmonies from Lesser-Roy and Cieri that raised goosebumps on my arms.
Cieri and Lesser-Roy are a wonderful duo on stage, sharing intimate moments that keep the audience on the edge of their seats as Lesser-Roy whispers in Czech that she loves Cieri, yet she betrays her own words. She doesn't accept Cieri's love when he asks for her to stay in Dublin and make music with him.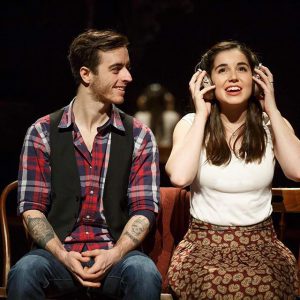 One of the best parts in the musical is how the ensemble is always on their toes, working as stage crew to move the props, but also waiting in the wings playing their own personalized instruments (cello, drum set, and ukelele) with the song the main actors are performing. Their instruments shine through the first song called "The North Strand" with a violin acting as the female voice and the drums playing a mesmerizing beat beneath the other instruments.
The show is appropriate for an adult audience, with strong language and crude jokes scattered throughout scenes. Though the music played throughout the musical is directed towards all audiences, a majority of the songs are related to the guy's love life and how he misses his lover.
The musical included a wonderful storyline that focused on struggling musicians, unreciprocated love, and different nationalities coming together in the melting pot of Dublin. I highly recommend this show.