Main Street Bagel Factory, located in downtown Hudson, has quickly blossomed into the central spot to grab a quick bite in a chill environment. Placed on main street, the hub of Hudson, the Bagel Factory provides a lowkey and comfortable feel while maintaining the professionalism of a tidy business. This shop's rustic aesthetic gives clients a comfortable atmosphere to eat, talk, and hang out. 
The Bagel Factory has seating both inside, in the refreshing air conditioning, and outside on a patio lined with flowers.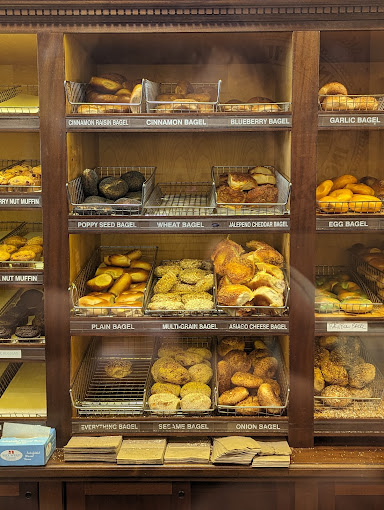 This restaurant provides a wide variety, from breakfast bagels and muffins to lunch sandwiches and salads. With sides ranging from fries to fruit and a large variety of drinks, such as coffee and fruit smoothies, there is something for everyone.
I walk up to the counter where a lovely and kind woman greets me. I ordered a cinnamon bagel, toasted with butter, and a strawberry smoothie. 
Within minutes, my bagel is toasted and I pick it up at the counter. I wait inside for a few more minutes before collecting my smoothie and then head outside to escape the hustle and bustle of the busy restaurant and to bask in the sun and enjoy my meal.  
The food is, to put it simply, remarkable. The bagel crosses my lips and I break the delicate dough, exploding flavors of cinnamon and sugar into my mouth. 
While the food is absolutely delicious, the price doesn't please my wallet. For a small business in downtown Hudson, I understand that profit is important. But, in my opinion, stopping at the Bagel Factory every day would be financially irresponsible. 
 All in all, the Main Street Bagel Factory is a 4.25/5 star restaurant with a great social atmosphere, respectful employees, and quick service.