Community Day Brings People Together
Students and staff members got together and stepped out of their comfort zone to get to know different people they never knew before on Community Day this past April 11. Many reported it was a positive event that this school needed. 
"I think it was a really fun bonding experience with people I'm unfamiliar with and it brought all kinds of people together which is what our school needs," explained Kari Flood.  
Community Day was a full school day event located in F-101 at Hudson High. Students from all different grades showed up representing the many cultures of Hudson High. 
"I think that community day was needed for HHS for everyone to share their way of seeing and feeling things," said Janie Yates.
Throughout the day many team-building and trust-building activities were played and many topics were discussed in a safe environment. Some students even found the activities interesting.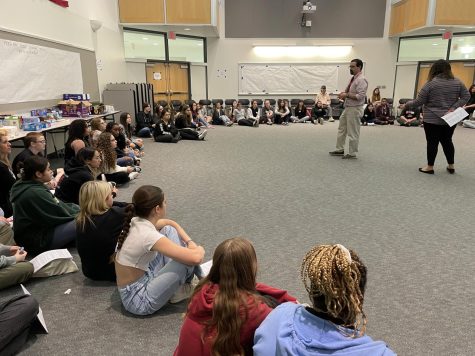 "My favorite activity was probably the step in step out because it really allowed me to see people on a deeper level. You see that they also are facing their own problems," said Adrianna Lane. 
The activities played involved a lot of trust and bravery.
 "My favorite activity was when we were blindfolded and trusted other people to lead us around the school," said Gabriella Alonge.
The tough topics talked about could truly impact Hudson High.
"I feel like people showed different sides of themselves that they don't usually show on a daily basis and we got to see insights on people's lives and right now people are going through stuff that we can help them through," explained Ashyla Coston.
Community Day wasn't just a free day to skip school but to connect on a social-emotional level with peers.
"The purpose of Community Day was to provide students with the opportunity to get to know people outside of their regular social group, and by doing so, to break down the stereotypes and barriers that divide us and create a better sense of belonging and connection at the high school." said history teacher Caitlin Bradford, the organizer of the event.