Rhianna's Return
Rhianna Shows Proves You Don't Have to Shine Bright Like a Diamond to get Views for the Halftime Show
Every year for non-football fans, there aren't many things to look forward to during the day of the Super Bowl. Despite that, the halftime show is something all fans can enjoy.
Throughout the years, we have seen great performers, like Prince in 2007 to horrible halftime shows such as Indiana Jones in 1995. Yes, they did an Indiana Jones parody to sponsor the brand-new attraction at Disneyland.
This year, we saw Rihanna with her first live performance in four years. With a slate of 12 different songs in a 13-minute timeframe, she delivered a performance that left many fans wanting more, some not so much.
Rihanna's set was a unique one with floating platforms elevating Rihanna and some of her background dancers up and down throughout the performance. The stage below was long and allowed for easy horizontal movement, but not vertical.
One subject of mixed opinions was the background dancers. I thought they were funny, but is that a good thing? You don't want a serious performance to be taken as something to make you laugh. The background dancers were dressed like marshmallows and they were doing weird dances for most of the show.
One instance was when Rihanna was moving down the stage and the background dancers were following her, one on all fours and crawling toward her. It was weird and unsettling for some viewers.
One aspect of Super Bowl Halftime shows that are important is enthusiasm and emotion. For example, U2 had one of the most famous halftime shows in 2002 for their 9/11 tribute. People loved it because of the emotion and what it meant to all of the US.
Rihanna's performance lacked enthusiasm and emotion. There wasn't much movement on her part, which can be blamed on the set. She was stuck on a floating platform in the air and couldn't move at all. She held a straight face for most of her performance and didn't show much emotion throughout.
The song selection was a bright spot on the performance with classics like "Diamonds" or "Umbrella". According to Rihanna, there were 39 different setlists put together until she settled on the one we heard on Sunday. 
Rihanna could have benefited from having more guest singers on stage with her. For example, last year was considered one of the best halftime performances in a long time, mostly because of the number of artists and the variety. Last year we saw Dre, Snoop Dogg, Eminem, 50 Cent, Kendrick Lamar, and Mary J. Blige. Fans loved the different amount of artists and how they were able to perform together.
Rihanna wasn't alone during her performance though. During the concert, you could see her rubbing her stomach a few times, sparking a debate on whether she was pregnant again. Her representative later revealed that she was indeed pregnant with her second child.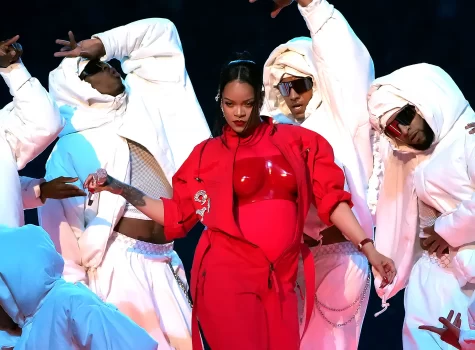 Despite the Chiefs winning the Super Bowl, Rihanna's makeup line, Fenty Beauty, was a big winner as Rihanna advertised it by putting on makeup in the middle of her performance. That is a better advertisement spot than any other commercial.
Believe it or not, Rihanna's halftime performance netted more viewers than the game itself did. According to FOX, there was an average of 113 million viewers for the big game, but about 118 million for Rihanna's show.
Overall, I would give this show a 6.5/10. The show was not memorable and was pretty average. The best thing about it was how amazing the set looked though it was limited. The floating platforms were one of the best parts of the show, but you can't discredit Rihanna's ability to perform, especially since it had been four years since her last performance.