Leaving a Legacy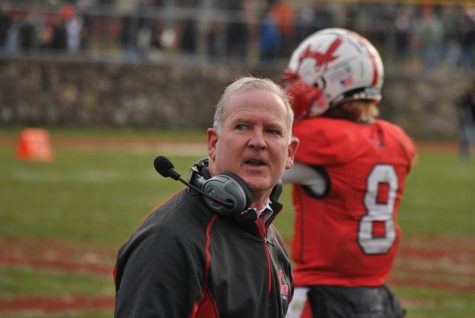 Varsity Football Coach, Dan McAnespie has retired from coaching after 25 years of leading the Hawks. 
It was announced in December that he would step down as head coach. However, he will still continue his duties as assistant principal of the 8th and 9th grades.
McAnespie started in Hudson as an 8th-grade history teacher in 1998. Having played football all his life, including at Fitchburg State, he jumped into coaching right away. He then became assistant principal a few years later in 2004, holding that role for the last 19 years.
"When you're at a school for 25 years whether you're coaching football, baseball, lacrosse, or any sport, there's gonna be some ups or downs," he said. "Right now, we're on the up."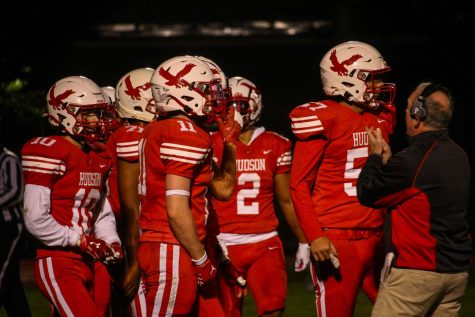 This year, Hudson High Football was ranked #1 in the state for 2022 and held the Midland/Wachusett League Title, as well as making it to the MIAA Elite 8 State Quarter Finals.
"So that's when I thought to myself, every coach has a shelf life, eventually.  This was a great time to leave it because when the next person comes in, the program will still be strong." McAnespie said about leaving the program in a good spot.
"When you put 25 years into a program, people say that it's kind of like your baby, and in a way it kind of is."
Currently, three of the six coaches are Hudson High alumni, so this departure is a heavy loss for some.
Jake Wardwell, one of the assistant coaches of the team,  graduated from Hudson High in 2013. He also works as a paraeducator, supporting students in classes.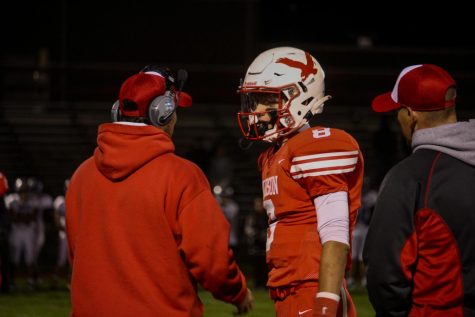 "We just like helping the program we played for," Wardwell said. 
Nonetheless, he still said the news was shocking.
"Ever since I can remember watching Hudson High Football, Coach Mac has been the coach on the sidelines, so it will be a little weird for me," he expressed.
A committee made up of community members, teachers, football players, and Athletic Director Jessica Winders, was formed to evaluate his replacement. Their job was to go through the best resumes and to interview applicants before sending the top 2-3 candidates to Principal Dr. Medeiros.
"I would love to help whoever it is and continue to coach," said Wardwell. "There are a few candidates that would be excellent to replace him and the kids know. It should be someone they know. Someone who's close to them and knows the program and the traditions."
That is exactly what happened when Dr. Medieros eventually chose Zac Attaway, one of the Assistant Coaches, and a Hudson High alumni.
Both McAnespie and Wardwell said they are confident the program will pick up right where it left off starting next season.
"The returning players, particularly the 10th graders, have a good nucleus of talent for us to build off of," said Wardwell, "The last two grades have left us in a good spot and showed the younger kids how hard they have to work to be that successful and have done a great job passing down the traditions and expectations to the younger kids."
Ryan Yates, one of the senior captains said, "They will be as good, if not better than we were this year. The upcoming junior class will continue to [carry on the winning team] as long as they play for Hudson."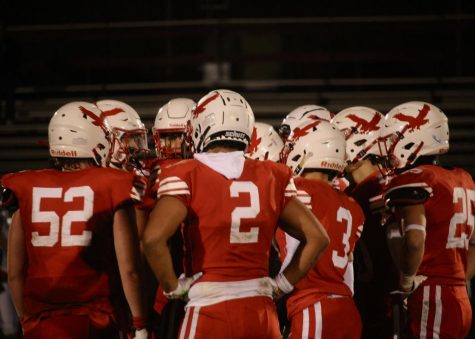 The echos of McAnespie's leadership are felt by current and former players.
"Coach McAnespie was more than a coach. He was a mentor and someone I looked up to and had a huge impact on me," said Wardwell.
"I'm not sure I would be teaching or coaching without his guidance in high school and after college. It has been an honor to play for and coach with him and I wish him nothing but happiness," Wardwell continued.
It's safe to say with all the lessons learned from Coach McAnespie that the Hudson Football tradition to 'burn the boats' will light the way to the future.