Meet Murf
Hudson School Resource Dog Brightens the Day of Students
When you hear the jangling of a collar and the sounds of paws tapping on the floor, you know who walked into the building. Of all the staff at Hudson High, Murf is becoming one of the most popular very quickly. And he's a dog.
Whether you're a dog lover or you get anxious around animals, Murf has a calming aura that anyone can enjoy.
According to the Alliance of Therapy Dogs, having a dog in a school can give cognitive benefits or socio-emotional benefits like the improved ability to read or bringing out the loving characteristics of a person.
"I like how he always seems to be happy and I feel that his happiness resonates with others," 8th grader Brayden Folan said.
Many students are stressed because of the amount of schoolwork they are assigned daily.  According to Everfi, a social impact education company whose mission is to bridge the gaps of inequalities that at-risk students face, attending to the emotional needs of students helps by "eliminating serious roadblocks to educational engagement."
But Murf reminds students of what makes them happy. The cute 13-month-old golden retriever loves being around people.
"His job is to engage with people, make people happy, make them feel better," Detective Chad Crogan said.
As Murf's owner and handler, Crogan trains the young pup for different situations that he could be in, none being dangerous. For example, Murf, described as "a friendly search dog" helps find missing people but he wouldn't save people from hostage situations or house fires.
"When someone's missing, he will use their scent to track them and when he locates them in the end he just lays down," Crogan said.
Despite Murf being in training, he is able to visit schools with the purpose of cheering kids up and helping them. Murf just walking into the school has an immeasurable effect on students at Hudson High.
"He's really opened up a lot of conversations with people," Crogan said. "He loves his job, he loves people."
Murf isn't the only dog Crogan has. He has another non-police dog, a 7-year-old German Shepherd named Roux.
"[Roux] is as smart as a whip, she loves Murf and they are good buddies," Crogan said.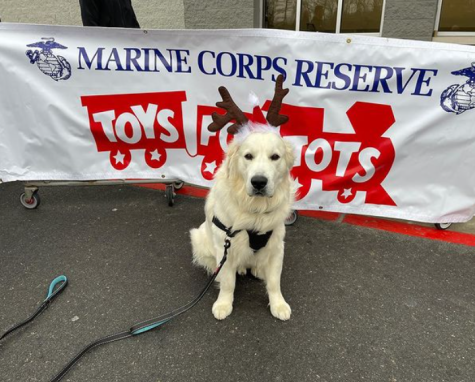 Overall, Murf helps students with anxiety and makes them forget anything that was stressing them out. All they realize is that there is a dog in the school and it makes them happy.
"Since we got him in February, he's made a huge difference in the schools and in the guidance office."
Crogan has much hope for Murf and his future. Murf has great potential to make a significant change in the school system.
"When we are walking in the hallway, people come and see him. They light up, they just get excited," Crogan said.