Champion Season
Champion. That's the word that comes up over and over again when asked to describe Savannah Gao's 2022 track and field season.

The now junior, began throwing javelin as a sophomore for the Hudson High track and field team in the spring of 2022 season. Before that time, she'd never even picked up a javelin.

Gao had an interest in the javelin and thought to herself, "Why not try it?"

Over the season, her status from novice rapidly evolved as did her skill. Gao accumulated a number of "champion" titles by throwing a distance of 118 feet. Her "champion" titles include Mid Wachusett champion, District champion, league champion, and division 5 champion. 

" Let's not forget that this was the first season that Savannah joined the track team; never having thrown a javelin before." Gao's coach, Bill Gaudere stated.

He continued difficult the event is, "The javelin is a technique event and usually takes several years to perfect. This fact alone would tell me that Savannah has a bright future in track and field."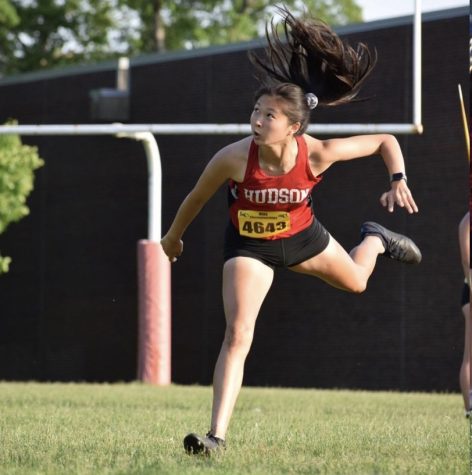 Gao's interest stems from her love of playing pass with her younger brother as a child. 
She recalls, "When I was little, I always played pass with my brother, football pass. For most of my life, I've been practicing throwing and I've known I have had a good arm ever since I picked up a football." 
Gao's brother, Roy Gao, reflects on watching his older sister win meet after meet. 
"I am very impressed. I remember her doing javelin just so she would be doing a field event, so and then seeing her so focused and winning in the event she was just going to experiment with was unexpected and impressive," said Roy. 
The Spring 2022 season came with much success, but behind all this success, Gao throws at least three days a week to get ready for meets. 
Gao warms up for every meet by the following list, 
Warm up, stretch 

Focus on technique 

Picture my run-up 

And finally, scout the other throwers to see their experience 
"She's very hardworking and committed," said Gao's previous captain and HHS alumni Abbey Woodcome, "That commitment is what allows her big goals to become a reality when she really puts her mind to it."
One of Savannah's training buddies, Alessandra Burnett, recalled training with Gao, "It's fun training with Savannah. She's very positive and is always looking for ways to improve her skills. She doesn't hesitate to ask questions and you can tell that she really cares about your answers." 
Burnett continued on Savannah's character, "She's a very dedicated and hard-working person/athlete. She puts in a lot of time inside and outside practice." 
With these accumulating "champion" titles, Gao found support and reassurance in her coach, Bill Gaudere. 
"It's always a great feeling to see an athlete rise to the top, reaping the benefits of their hard work and dedication to a sport," said Gaudere. 
But even these champion titles are not without some slight physical pain. 
"My main stress is my arm. It sometimes hurts to throw. I have to take a lot of days off for my arm and to overcome it I would have to seek advice from my coaches and constantly look up ways to stretch or relieve the pain," said Gao. 
"As a coach," says Gaudere, "protecting Savannah from Savannah can be the hardest part. With her strong work ethic, there are times Savannah will take twice the number of throws she should be taking and question why her arm might be tired. Many times I hear, 'just one more throw.'" 
Looking forward to the 2023 outdoor season, Gao has several goals she wishes to achieve. 
"My main goal is to PR, any PR. Even if it is a 1-foot PR I'll be happy. Honestly, the placements in the meets don't matter, all I want is to see myself improve," said Gao. 
Her ultimate goal is to break the school record. 
"The school record for the javelin has been on the record board for too long. Time for a new name to be added." Coach Gaudere said.