A Time for Thanks and Giving
Interact Club and Spirit Committee Team up to Organize School-wide Food Drive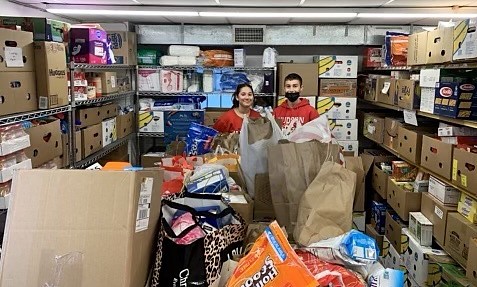 Thanksgiving is a time of love and generosity. But for some, it is difficult to provide a hot meal. As the second Thanksgiving during the Covid-19 Pandemic, it is especially difficult for many. The Hudson High Interact Club and Spirit Committee hoped to alleviate that need, partnering with the Hudson Food Pantry. 
"It's important to help others especially during COVID times when many families are struggling," said 10th grader Thuy-Tien Nguyen, Vice President of the Interact Club. 
Interact Club and Spirit Committee teamed up to collect necessities for the food pantry through the high school. Interact Club has organized a school-wide competition to motivate students to donate food. Each grade as well as faculty had set up a box in the school to collect donations. 
"I feel like everything was easier because we both [the clubs] have different ideas to work with. It helped to have all those hands-on-deck to get the idea across," said Haily Pearlstein, a 10th grader and member of Spirit Committee. 
The grade that donated the most was rewarded with a party during ARC for their entire grade. 
"It will motivate more students to participate. They will be more willing to donate if there is someone to go against," said Nguyen.
All donations were delivered to the food pantry by the club advisers on November 23, days before Thanksgiving.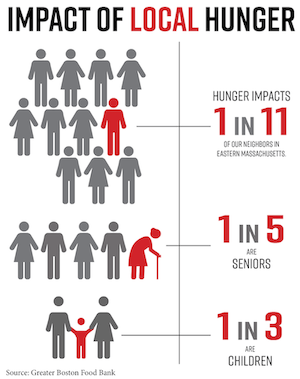 "The school should be doing things together that support the community and even students," said history teacher Pamela Porter, advisor of the Interact Club.
With the pandemic affecting various families in Hudson, many turned to the local food pantry. 
Since 1996, the food pantry has been a non-profit and volunteer-run organization serving residents of Hudson, Berlin, and Bolton who struggle with food insecurity. Partnering with the Greater Boston Food Bank, and sponsored by many local businesses, such as Shaws, Stop & Shop, Hudson Appliance, Durand Chevrolet.
Donations can be dropped off at their back blue door (accessible through the parking lot located at 26 Houghton Court) on Saturdays between 8:30 am and 10:30 am or placed in the donation boxes at Stop & Shop or Shaws Supermarkets, among other locations.
"It's important to work with local partners to keep them going as they make Hudson special and a family," said Nguyen.
Not only does the food pantry collect food, but they also collect personal care items and pet food, baby food formula, and diapers, as well as financial donations.
Following the food drive, the school collected 880 items of food, toiletries, and pet supplies. The 10th-grade class donated 268 items, making them the winner of the school-wide competition. 
"I think that it is important for us to do this food drive to show our support to the people that don't have the luxury of food. We would like to help those people so they don't have to wonder where their food is coming from tonight," said Pearlstein.