A Tale of two Hawks: From Hudson to Harvard
Hudson High School seniors Emily Figueiredo and Michael Peckham have been accepted and officially committed to Harvard University. This is the first time that two HHS students have been accepted to Harvard in the same year.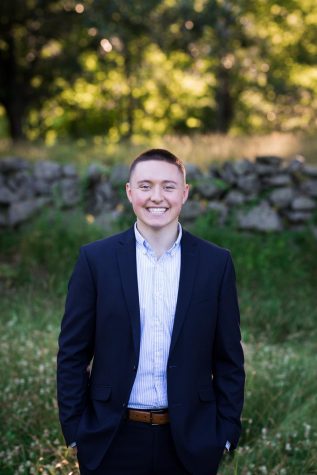 Going to Harvard has been a long-term goal for Peckham for most of his life.
"I've wanted to go to Harvard since kindergarten. It isn't about how prestigious the school is. I didn't see it as a little accomplishment, I saw it as an invitation to be challenged," Michael Peckham said, "I want to be able to put myself through these challenges and I'm hoping to challenge myself through life."
Yet, for Figueiredo the path to Harvard was not a goal that began at a young age.
"Not a sliver in my body expected to be accepted into Harvard. I didn't want to get my hopes up so when I got my decisions from all of the other schools I was ready to commit to another school. I almost committed to UMass Boston actually and I completely forgot about the Harvard decision," said Emily Figueiredo. 
Even with a little trouble they were dedicated to applying to Harvard.
Going into the application process I knew absolutely nothing but I was able to apply to 10 colleges." Figueiredo said, "All I knew was that I wanted to stay in Massachusetts and near my family and so I just applied to schools around this general area."
 "I was planning on applying to 13 colleges but I only truly applied to Harvard and UMass Amherst. The deadline for all of my other applications was early January, so I had already found out about Harvard before pressing 'submit'," said Peckham. 
With this opportunity Peckham has created two separate career paths for himself. 
Peckham would love to work in corporate finance on Wall Street in NYC. "I have a passion for economics and finance, and know my way around investments," Peckham said.  
He has accepted a scholarship offer from the United States Air Force, he will be in the AFROTC program at MIT and will serve in the USAF for 4 years.
If he enjoys the Air Force, he plans on further pursuing this career. "Life is constantly changing, and making goals in the short-term allows for you to be much more flexible than if you were to plan your career 10 years out," Peckham explained.
Figueredo initially submitted applications with the intent on majoring in computer science, yet may alter that pathway.
"I'm no longer interested in Computer Science, and I'm really lucky that at Harvard, all of the students go in first year as undecided, so it worked out really well that I'm going to be able to change my mind," Figueiredo said, "I think I'm going to go into economics because I'm interested in that right now, but my plan at the moment is to take two different classes in those two different fields and figure out what I like, and I'll make my decision at the end of freshman year."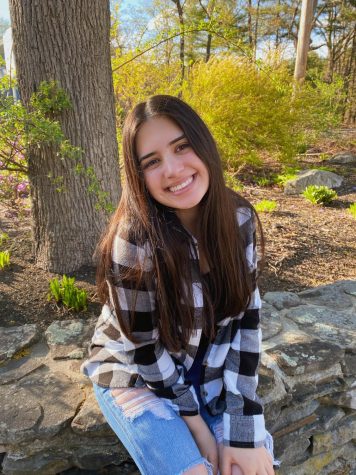 Alongside their rigorous school schedules, they were able to explore hobbies and grow leadership skills. 
"I was involved in a lot. My most important activities were certainly the leadership conferences I attended: one put on by the Massachusetts Youth Leadership Foundation and the other by the Rotary Youth Leadership Foundation. where a few hundred like-minded students gathered for a weekend of leadership seminars and problem-solving activities. I was also lucky enough to find a home in our very own Drama Society for a few years. Performing in the Paul "Skip" Johnson Memorial Auditorium was a pleasure," Peckham said.
"I started the student wellness advisory team freshman year and it's a club that focuses on the well-being of students both mentally and physically. I was also on the state student advisory council. We got to go to the board of education building in Malden to speak to students all over the state about educational policy and about reforming education," Figueiredo said.
They will continue to appreciate the teachers that helped them pave the way for this moment.
"I think that there are parts of HHS that certainly helped me get this far, but there are also limits to the public education system as a whole that hindered my ability to achieve all that I desired. To answer your question, however, there are a few specific faculty members who truly went above and beyond to get me where I am today. One being our Math Curriculum Director, Mr. Knittle (and his team of math teachers). He has a love for learning that is unmatched, pushing the limits of our school's curriculum to let me explore deeper into the world of Calculus," Peckham said.
Figueiredo proceeded to thank HHS for the courses she was introduced to.
"HHS has provided me with a lot of incredible opportunities that I think made me stand out as a candidate for Harvard," Figueiredo explained, "This year I'm taking this course called medical interpretation. At the end of the course, we take an exam and if we pass we get the certification to interpret in the medical field, which is a really cool opportunity to have at the age of 18, or getting to go to the board of education building and meeting with students all over the state. All of those unique opportunities I think made me stand out." 
With a tremendous amount of pressure, students get to work hard in school that never stopped them from reaching their full potential.
"I've never felt pressured to work this hard. I'm the middle of five children and my parents really focused on my younger siblings and my two older siblings. As the middle child, I was kind of in the middle of the mix and I was only focused on being the best I can be," Peckham said.
"I think if anything I put more pressure on myself than my parents ever did. My mom always would tell me that she didn't care what my grades looked like or how well I did in school as long as she knew I was trying to do my best. It was really nice to have that support," Figueiredo said.
When finding out they were accepted it was only right to have the reaction they did when they opened the letter.
"I was accepted through Harvard's Restrictive Early Action Program on 17 December 2020, at 7 pm. I had dreamed of that acceptance letter for nearly a decade, but I had also feared a rejection for a while too. I cried for countless hours over that application, so when I opened my letter that read "Congratulations!" It was only fitting that I broke into another fit of tears, this time happy ones. With my father over my left shoulder and my mother over my right, we sat on our living room carpet in awe for what felt like an eternity, crying. The wave of support and congratulations that I received following my acceptance has made all of my restless hours completing AP work finally worth it," Peckham said.
"When Ivy Day came I logged in to the opportunity application portal at 8 o'clock and I was ready to see "we're sorry to reject you." I was prepared to send a screenshot to my friend saying "I got rejected from Harvard, let's laugh about it" that was my plan. When I opened it up, I saw "Congratulations!" At first I was like "there's no way." I called my mom, she was driving so she pulled over and panicked with me. My dad was so excited he went around at work telling all his friends, "I dropped out of high school my sophomore year and my daughter got into Harvard." I think they were happier than I was. My family in Brazil were all thrilled for me as well because Harvard is one of the only schools they even know the name of," Figueiredo said.
With big changes that come with this opportunity, they are willing to make their time useful.
"Yes, things will change. I received scholarships and for the next 4 years I will be doing officer training classes and that will be a big change in hobbies, activities and even things I will eat but academically I don't think things will change," Peckham said.
"I think it's gonna be really nice to have a clean slate and build my reputation and be the person I want to be because I lived in Hudson my entire life and I've been in a Hudson school system since preschool. So I've grown up all these people in my grade and we know each other really well but while we are getting to know each other we are also figuring out ourselves so it's going to be nice be in a new environment to meet new people and be the person I want to be and start over," Figueiredo said.
"This is a really simple piece of advice but I think it's effective, when you're scared of pushing yourself out of your comfort zone, count down from five and just do it. That's what I've been using recently because the hardest part is getting started just taking that first step," Figueiredo suggested. 
"Make sure it's something you really want. Reflect on your goals. Also, start to imagine what this goal is going to cost you (time, energy, friendships, etc.) Make a detailed plan. Set many small goals, a few medium goals, and one large goal, all related to this. Lastly, seek out others who have mastered this already if you need help," Peckham advised.
Plenty will be missed at HHS with the way it has paved the way for this opportunity.
"I will certainly find myself missing the teaching staff at HHS, specifically those who have had a profound impact on my future educational path. There are so many amazing faculty members at HHS," Peckham said.
As time dwindles down to the move-in date, they continue to express varying emotions.
"I'm going to miss the strong relationships I've built with some of the teachers and faculty at Hudson high. Probably just the small moments in the classroom where we were just genuinely having a good time learning," Figueiredo said.
"I am extremely excited about moving to Cambridge! I've enjoyed my stay in Hudson, but the small-town life simply isn't for me. I'm a vibrant guy, and I need a city just as electric to keep up with my pace. I'd love to live in NYC one day, but Cambridge is certainly a very exciting next step for me," Peckham said.
"I have no idea what to do," Figueiredo explained on her pathway to the Ivy, "I'm excited but I'm also absolutely terrified because I know I'm gonna be surrounded by incredibly smart students and teachers."