Cheerleading Team Crowned National Champions
The Hudson High Varsity Cheerleading team became Advanced Coed National Champions at The Boardwalk Nationals in Atlantic City, New Jersey in last weekend's competition, February 2-3, 2019.
The Hawks were 0.4 points away from Grand Champions against all the high school teams in the country.
Throughout their season, the team has accomplished regional, state and national champion titles. Hudson cheerleading has not won States since 1993, so this was quite an accomplishment for Hudson High School and the team, commented senior captain Rachel Matisko.  "It feels unreal. We've worked so hard the last 5 years to get to where we are now and I couldn't be prouder of our team," said Matisko.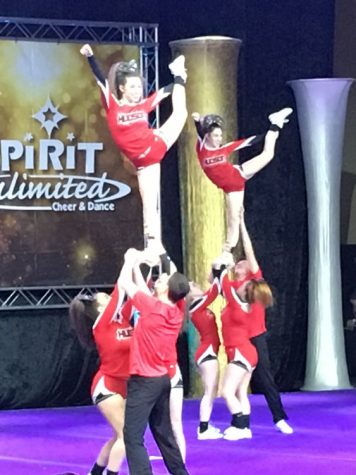 "As an alternate and seeing the team practice the way they do, the outcome they received is what they deserved," said freshman base Sofia Silva.
"I never thought we'd not only win a state championship but also be able to call ourselves national champions. I couldn't think of a better way to end my high school cheerleading career," said Matisko.
Head coach Ashley Cinquegrana and assistant coach Erin Peckham have led them to many new opportunities that many sports teams do not get.
"I can't even tell you how impressed I am with them this weekend. Today they brought me to tears…so many kids threw new skills and really pushed the bar," said Cinquegrana.