Christmas in Argentina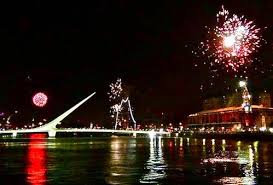 When Andrea Boure was growing up, Christmas time in Argentina meant 70 degrees, fireworks, and BBQ.
A family tradition for Boure was making fruit salad while she was living in Argentina. Around the holidays Boure spent a lot of time with family, celebrating Christmas and Hanukkah.
"We started celebrating Hanukkah once we came to the US. In Argentina, we lived in a very rural area and my mom was the only Jew around," Boure said.
As you could imagine holidays in Argentina are spent differently than around here. "The day is spent with the men cooking the barbecue that consisted of pig or lamb. The women would spend all day cooking the side dishes of potato salads, pasta salads, etc." Boure said.
She remembers sitting around the table peeling fruits.
Boure has a lot of memories that go with this fruit salad recipe but the most memorable one is being around her family every Christmas. "All the laughter of all the women that are gone now from my family. I remember when this holiday was truly about, family and celebration."