A Gingerbread House Full of Memories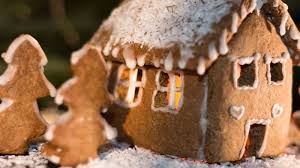 Warm gingerbread cookies and white royal icing turned into a quaint gingerbread home. Decorating these is a holiday tradition for many. For 8th grader Madison Beane, gingerbread houses hold a special meaning.
Sue Beane was the single mother of Madison Beane. During Beane's childhood, her mother was diagnosed with cancer.
"They told us how much time she had left," Beane said.
As the years progressed, Beane's mother had to spend more time in hospitals, but according to her daughter, this didn't bring her down.
"She always wanted to do something, even when she was sick."
As Christmas approached each year, Beane spent time with her mother decorating gingerbread homes, even when her mother was stuck in the hospital.
The nurses, Beane recalled, always made sure she and her mother could spend time together decorating gingerbread houses.
In the winter of 2014, two years before Beane's mother passed away, she and her family spent the night decorating gingerbread houses. It was also the night that her mother shaved her head for the first time.
"She was rubbing her head," Beane remembered. "She loved it."
It was also that night that Beane's mother told her to not be sad when she passed away.
"Take a picture of me and this gingerbread house," Beane's mother told her, "and imagine me living inside of it."
Despite her prognosis, Beane's mother was able to find comfort in the building of and decorating of gingerbread houses with her family.
Beane now remembers her mother when she thinks about gingerbread homes, because throughout the rough times her family faced, it brought the family joy.