Racing into the Record Books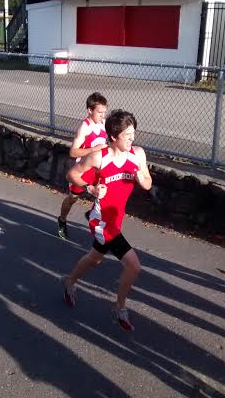 by Dakota Antelman
The name Doherty Munro is repeated seven times across the running record boards in the Hudson High School cafeteria. So far, 2015 graduate Andrew Doherty-Munro, lays claim to two of those records, while 2009 graduate Luke holds the others. Jake, a sophomore, and the youngest of the brothers, seeks to extend the 10-year Doherty-Munro dominance of Hudson running.
Jake shaved more than two minutes off of his 5k time between his freshman and sophomore seasons and is currently competing in mid-distance races for the indoor track team. He hopes to break his brothers' records, while according to his mother Allison Doherty, "creating his own space" to add records to the family's tally.
"You see stuff like this happen in different sports where there are mini dynastic families that put through athletes that are strong in one sport or another," cross country coach Tim Reinhardt said. Reinhardt has coached both Andrew and Jake since taking over the team in 2012. "You see it in football, basketball, baseball, or hockey. This is one of those moments where you have a pretty special group of kids. It isn't something that happens all the time."
Running as a pastime was something that began by chance for the family. Luke started in eighth grade after his soccer coach recommended he join the track team to stay in shape in the offseason. He fell in love with the sport and dropped soccer the next fall. His mother adds, "I don't think he ever played another game of soccer in his life."
Andrew followed in Luke's footsteps. He trained during the summer, putting an emphasis on getting a "good aerobic base for the season." He specifically dedicated time in his junior and senior cross country seasons to refining his pace with Coach Tim Reinhardt.
Jake spent much of this past summer running on trails and sidewalks. He estimates he ran up to 55 miles per week, keeping to a strict training schedule that Luke helped him create.
"It eventually becomes habit," Jake said of training and running in general. "If you don't go on a run one day, it just feels weird."
For Jake, this summer before his sophomore cross country season was a key one. With Andrew graduated, he would be taking over as captain of the cross country team. After a promising freshman season, Jake had personal goals of getting his 5K time below 17 minutes, and staying healthy long enough to compete and possibly win at the league meet in November. This season, he surpassed that personal benchmark, reducing his personal best in the 5K to 16:41.
"There was a little brotherly competition that went on when Jake and Andrew were on the team," Reinhardt explained. "Andrew was competitive with the top runners, and I think that's something that Jake wants to emulate. They probably have a bit of friendly competition going on to see at the end of the day, when everybody's graduated, who's best among the three of them."
Jake has drawn within 30 seconds of Andrew's 5K record. He has also ascended the cross country ranks, leading Hudson's team and finishing 22nd out of nearly 350 runners at the MCTCA Coaches Invitational meet in November.
He acknowledged, however, that personal success was not his priority in the fall season.
"I stepped up as more of a leader [after Andrew left], especially since I was elected captain," Jake said. "I started having more of an influence. I definitely got looked at more by the other guys, so I had to set a better example for the other guys than I guess I did in eighth or ninth grade."
The cross country team went 2-7 this fall, with Jake leading the way as its top runner. 2015 was a rebuilding year for the team, which hopes to become the kind of perennial championship contender that it was in the late 2000s when Luke was a junior and senior. With a core group of underclassmen, Jake Doherty Munro and Coach Reinhardt are confident they can climb back to the top within the next few seasons.
In the meantime, Jake continues to run and excel as part of the winter track team.
He says he stills draws on memories of Luke's success in Hudson as he runs. In fact, Jake recalls vividly Luke's win at his league meet in junior year.
"I don't think I'll ever forget [the league race]," he said. "My parents and I were standing there by the finish line. We were standing there waiting for the first people to come through, and then suddenly I just saw him come in, and he was completely alone. I'll absolutely never forget that."
Jake added that it was Luke's success that made him want to run.
"I'd always wanted to be a runner," he said. "Luke graduated in 2009, so it was a long time ago. I was playing soccer then, but even that young I knew that this was just a prelude to when I would start running. I wanted to be like him."
Three years after he started running full time, Jake is a captain of the cross country team. As just a sophomore, he has also had the fastest consistent time on the team, averaging just under 17 minutes per race.
Jake says of his family and of his team, "There's definitely a pressure to perform, but I've always felt like I'm able to do that."
As he completes his sophomore season of indoor track and heads into the outdoor track season, Jake is already looking up at the banners and record boards which bear his surname. With two years left before he becomes the last of his three brothers to graduate Hudson High School, he says,  "I want to leave a legacy, and I want to make sure that at least one of us is on one of those boards forever."