Falling Back into a Normal Season
Fall Sports Captains Share Highlights of Their Season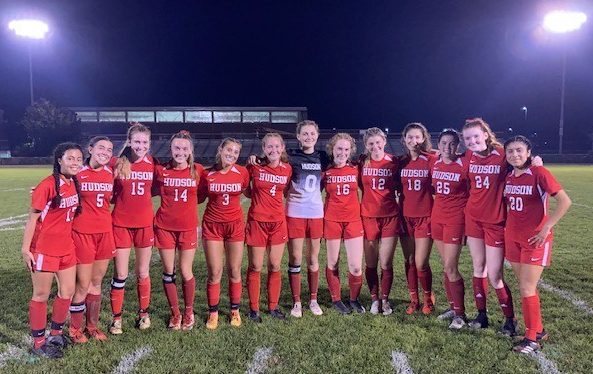 Even a pandemic didn't stop Hudson High athletes. Following an unprecedented year for fall sports in 2020, this year the Hawks persevered with wins and records. Here's a wrap up of each team's season:
Girls Varsity Soccer: 4-9-2
Girls varsity soccer started off the year with 13 seniors and played against various Division 1 and 2 schools. 
 "Overall we worked together very well to come out with some wins and ties and ended the season in Central Mass playoffs. After last season's restrictions, we made a lot of improvements on the field and had a fun time playing together this fall," said senior captain Jillian Johannes.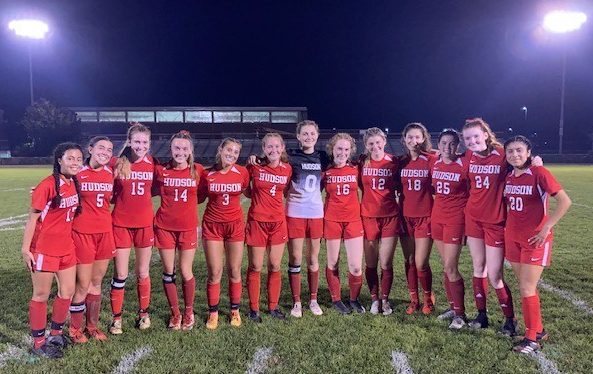 With the number of seniors on the team, they will lose over half of their players. Various seniors have been playing together for 10+ years starting in the small fry league, making it a heavy loss to not just the team but players individually. Fortunately, this can cause opportunities to rebuild the roster for next season, but also be a great loss to the team. 
"This year we are graduating 13 seniors so there been a big step up in leadership positions but everyone's really come together and there's a lot of underclassmen so I'm excited to see how the team does next year," said senior captain Emma Bigos.
Girls Field Hockey 5-8-2
Girls field hockey had valuable players in the 2021 season, but the loss of the 2020 seniors was definitely felt.
"We lost a few girls so we have been a tiny but mighty team," said senior captain Lina Fossile.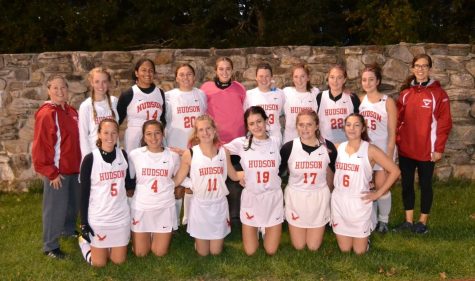 "Many of the girls have changed their positions and have been super versatile. Additionally, I would say we grew as the year progressed and surprised a lot of the teams we lost against," she continued.
Even though the score wasn't always on their side, that didn't stop them from having a good time and raising money for the team at their bake sale.
"I believe the highlight of the season would be our comeback against Lunenburg. When we played them in Lunenburg we lost 4-1 but when we played them for our Pink Game (breast cancer awareness game) we beat them 1-0 in the last 40 seconds of the game," Fossile said.
The team will graduate six seniors this year.
Girls Volleyball (9-7)
Varsity volleyball had a rollercoaster season after losing valuable seniors the previous year and oscillating scores.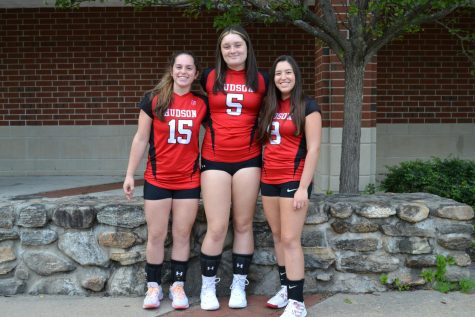 "During one of our last games playing South Lancaster Academy, the student section was so rude to us but we blocked them out and worked together to get a dub. I will never forget how hyped we were to win after playing a really close game," said senior captain Ella Tucker. 
Tucker and other seniors made the most of it as it was her last time on the team, building bonds with every practice. 
"Well we lost a lot of seniors last year and this year the team is mostly split up by juniors, seniors and underclassmen so we had to definitely build bonds that weren't there last year, I know for me personally, I definitely got a lot closer with more people on the team and now I'm like best friends with the sophomores but last year we didn't even talk," Tucker said.
Girls and Boys Cross Country, (3-5)
Senior captain Abbey Woodcome is excited for more to come with all the team has accomplished so far. Stating the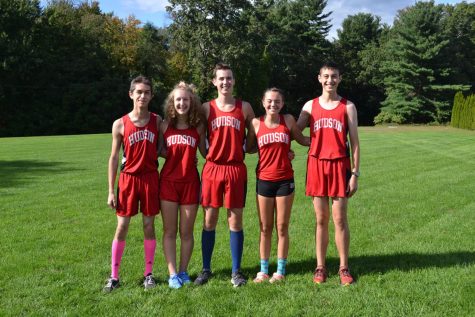 highlight of her season would be her teammate's hard work.
"Sophomore Rachael Korowoski broke the original school record and then her own record twice. The original school record was 20:58 at the start of the season and now it's 19:51," said Woodcome.
Football (8-3)
Football's winning season came after over a decade of not making it to the playoffs.  However, with the change in divisions and new team, their seasons started out undefeated causing immense pride across the school and team. 
Led by All-Star captains and freshman quarterback Jacob Attaway, the Hawks came together to win the majority of their games.
The team had much to say about the family they built this year and the many highlights.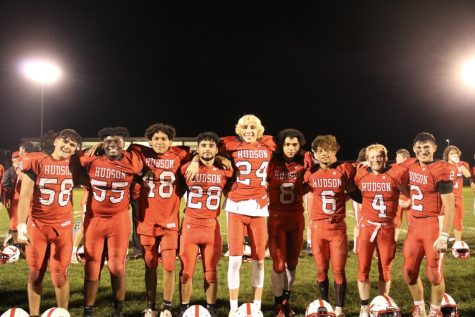 For senior captain Marcus Bass, the highlight of his season was going 4-0 to start and how great they played against Maynard. He continued to reflect on his relationships with his teammates.
"The work ethic and the morale of the team was unmatched and the bond from player to player was something no other team had. This is the best season Hudson has had in years," said Bass.
Senior captain, Quinn O'Brien expresses that this is a season he will cherish forever. "The highlight of this season was having my last high school football season be a good one with the kids I've played with my whole life," continued O'Brien.
Golf (4-9-2)
Senior captain, Paul Melo and junior Grayson MacDonald, said that the golf team is stronger this year.
"We all got much better and we put in a lot of time over the summer to be able to compete in matches with good teams and we didn't get blown out by any teams this year," MacDonald said. 
"This season was tough, we have a very young team with potential but not much exposure. They worked hard at practice and we were one match off of districts but did not qualify as a team," Melo said.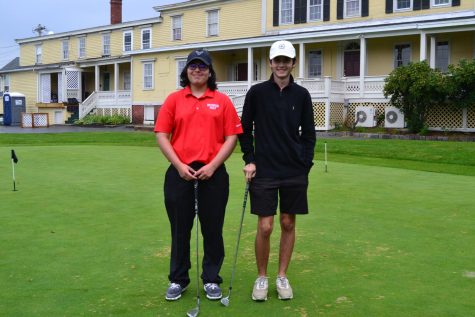 Through all the practices, hard work shined through in their performances individually.
"I would say the highlight of my season was shooting a 41 at the international which is one of the hardest courses in mass and tieing Clinton was a good accomplishment because they're really good," expressed MacDonald
"I had made the districts as an individual, and again, missed the state tournament by one stroke. But I will never forget the last hole with Coach Nataro watching me stick a shot to 6 inches as my last shot and my Hudson Golf journey ended after 5 years on the team," said Melo.