Freeman Bikeriders Dodge Their Way to Victory
Entertainment, action, rivalry, and controversy filled the gym for this past Friday's annual dodgeball tournament put on by Community Council.
The single-elimination tournament featured 16 total teams (one being last minute) but only one could come out on top.
The first round determined seeding brackets for the tournament. There were many upsets but the team named the Last Minutes did not beat their opponent. They may have lost that round but they could carry on to the next prior to elimination. One member of the team was principal Dr. Jason Medeiros.
"I didn't last very long, so I can't say we had a very competitive match, but it's a preliminary round and we'll come back at it in the bracket," Medieros said. They did not come back at it in the bracket, losing to Juicy Seafood in the first round.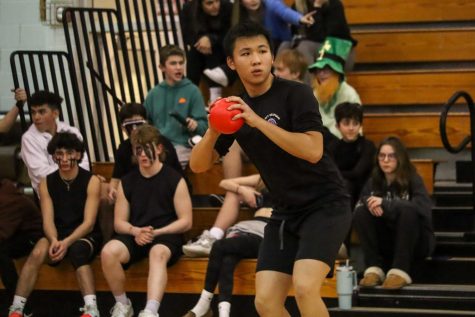 Juicy Seafood was a topic of controversy as their matchup against DCFC ended in confusion. Both teams were down to their last member when it seemed freshman Roy Gao for Juicy Seafood might've been hit with the ball on his foot after attempting to jump over it.
It was hard to tell whether the ball hit Gao or not, but DCFC thought it hit him as they started celebrating what they thought was their victory. The ref did not call the game there and Gao was able to collect himself and hit the last member of DCFC to advance his team to the semifinals against Freeman Bikeriders. 
Freeman Bikeriders was nearly unstoppable in this tournament, winning almost all of their games. The one game they lost was to Tribe, a team consisting of only sophomores. The game was important for Tribe and the win was an exciting one.
"It feels great, it was a team that was talking a lot and it's a senior grade but we got the job done," Tribe player Nolan Yates said.
"It's a hard game out here, everyone is competing, you just have to compete harder. That's how you win," Tribe player Brandon Figueiredo said.
Another sophomore team was Hell's Kitchen. They played an eighth-grade team called Cash Money in the first round. It came down to the wire, with David Rambler winning a 1v1 to beat Cash Money.
"You have to do what you have to do, everyone's playing their part, I have to take my part and step up," Rambler said.
"I'm feeling great, we got a little scared at the end, but we ended up coming out in the end. We followed the game plan and we excelled at it. They're very coachable players, you give them a task, they're going to do it," Hell's Kitchen manager Adam Mael said about his team. "I'm feeling on top of the world, I think we can take on anyone."
Hell's Kitchen went on to beat WG in the first round but ended up losing to Freeman Bikeriders in the quarterfinals. They didn't take their loss well, disappointed by some calls that the referees had made.
"I thought [the refereeing] was terrible. I made a huge play, I caught the ball with my feet and apparently it didn't count. We hit the other team three or four times and there were no calls," Hell's Kitchen player Ben Hillis said.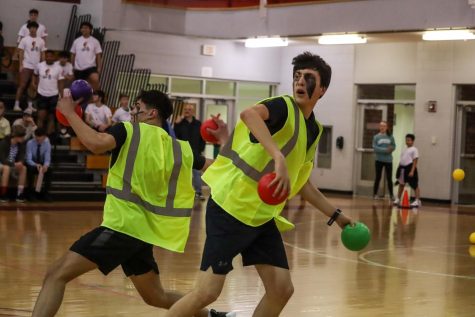 One team that surprised many was Bill's Builders, a team of mostly sophomores that were considered underdogs for most of the tournament. They won every game up until the finals against Freeman Bikeriders.
A matchup that was long awaited was the sophomore versus sophomore matchup of Bill's Builders against Tribe in the semifinals. Tribe was favored to win, but Bill's Builders came out on top to make it to the finals.
"I feel amazing, they were talking so much crap to us and we shut them up," sophomore Nico Giorgi-Woodford said. "It feels so great [beating them], everyone was doubting us, we were the underdogs but we came out on top."
In the end, it came down to Freeman Bikeriders and Bill's Builders. Bill's Builders were undefeated up until this moment and Freeman Bikeriders had lost one game, but they were looking much more dominant throughout the bracket.
Freeman Bikeriders took over in the finals, dominantly beating Bill's Builders 2-0 in a best-of-three match. Despite this, Bill's Builders were proud of how far they had made in the tournament.
"I feel like we could've done better as a team and I could have done better as a player, I let my team down. But those guys were unstoppable, great team, they played so well during this tournament," Bill's Builders player Brady Crogan said. "I'm happy we got second place, I wasn't expecting to go to the finals."
"I didn't have a team until yesterday, so I didn't know what to do, I was underestimated. We lost our first game because we didn't understand the rules, but we got the hang of it and we did it." senior and Freeman Bikerider's player Keith Campbell Jr. said
"Honestly, I was in the negatives, I didn't know how we were going to do, and after we lost our first game, I knew this was going to be hard," Campbell said after being asked how confident he was for the tournament.
Just because there were losers, doesn't mean no one enjoyed it. Players throughout the tournament had a great time and enjoyed the experience.
"It was a lot of fun. I got to hang out with my friends and we got to go against each other in a fun game. My team went pretty far and it was really fun," Giorgi-Woodford said.
"It was really fun, the competition was great, the energy in the room was amazing and I enjoyed it a lot," Crogan said.