Don't Take Anything for Granted
Seniors Share Advice for Underclassmen
Facing multiple obstacles to the ideal senior year, the Class of 2021 has no shortage of advice for underclassmen.
Not only has the pandemic presented new challenges to education and learning, but it has also allowed seniors to reflect on their time at Hudson High and advise underclassmen about what aspects of HHS never to take for granted. 
Several students said it felt surreal being a senior and only days away from graduating high school.
"It definitely goes by super quickly," said Olivia Vaccari. 
Echoing this sentiment, Dania Mael said she was "in awe" of how fast time had flown. She also encouraged underclassmen to "Take the classes you want."
Mael emphasized the importance of social connection, wishing that she had spent "a little more time being social and having fun."
Kayla Popovich added that one of the best ways to be social was by "taking advantage of after-school activities. You gain a lot of new friendships and relationships from them."
"They legit have one for everything," said Maia Frias. 
Other students expressed gratitude for the often overlooked physical aspects of Hudson High. 
"Air conditioning," said Anthony Burnett. "You never realize it in eighth grade, but that's like the only year you have most of your classes with AC."
Melissa Perry shared a favorite memory of "fitting 12 people around one lunch table." 
Julia Beatty agreed that "Lunch in general" should not be taken for granted. 
Some students highlighted the course variety and selections at Hudson High.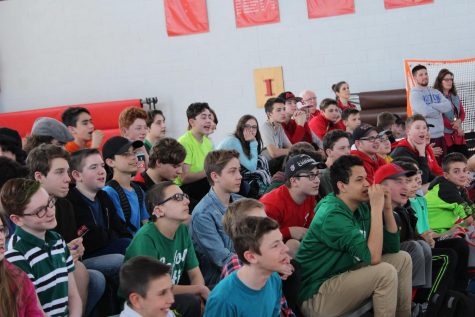 Gianna Deveney advised younger students not to ignore the classes in "The art department. There's a lot of great classes you can take," underscoring the importance of "getting into that early on so you can follow the sequence."
Needless to say, many seniors will carry fond memories of Hudson High with them as they pursue their future endeavors, including those that arose from this nontraditional past school year.
"Wow," Mael concluded, "I was just an eighth-grader, and I'm already a senior. It really, really flies by."