Meet the Finalists
Arena, Flynn, and Medieros Make the Final Cut

After being narrowed down from the candidates by the select committee, the top three candidates for the Hudson High School's principal search were announced on Friday, March 1st.
The three that were picked are Richard Arena, Colleen "Kelly" Flynn, and Jason Medieros. Each is qualified for the job; all of whom have a strong work history in education, and are currently Assistant Principals at their respective schools.
They have become familiar with HHS and have shown great interest in the academics, activities and supports the school provides for students.
"I am impressed by all that Hudson High School offers its students and the vision and mission of the school," Flynn stated.
Arena continued to compliment the school.
"Of the several HHS staff with whom I have worked, I found them to be professional, earnest, but most importantly, focused on what is best for students," Arena said.
While showing interest in the schools, the three candidates have shown plans for the future.
"The ARC initiative at HHS seems like a creative effort to make sure all students are getting what they need," Medieros stated, "That willingness to be flexible and innovative is certainly an example of the mindset that I would like to encourage for staff and students."
Other priorities include communication between staff and the Hudson community.
"I would form a number of focus groups, composed of faculty, staff, students and parents/guardians," Flynn stated,  "My goal with these groups would be to listen and learn."
Arena echoes this idea.
"It will be crucial to learn about the characteristics and practices which educationally add to the experience of all students at HHS." Arena said,  "Gaining an understanding of what practices work and what needs to be supported will be a critical starting point."
Medieros further explained his strengths as a potential candidate.
"I hope my work would reflect three core values: equity, respect, and community. As a person, I am calm and composed. I am a clear communicator." Medieros said.
On top of their plans for the future of HHS, they also have clear concepts on how to tackle problems.
"Understanding the many levels and details of a challenge is paramount in meeting them." Arena said, "Soliciting feedback from the stakeholders is the only way to collaboratively work towards a lasting solution."
Flynn spoke to her different approach.
"I like to work on challenges by creating teams/working groups," Flynn said. "There is a great deal of knowledge that exists in a high school, and there are many areas in which others have more expertise than I do."
All of them look forward to the vision they hope to implement as principal.
"HHS is not being built from the ground up. There are a lot of good things happening," Medeiros said, "It would be my role to honor that work while working with the community to set shared goals for improvement."
About the Writer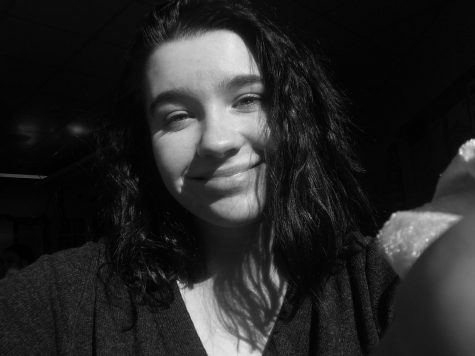 Veronica Mildish, Editor-in-Chief
Veronica Mildish, class of 2021, is the Editor-in-Chief for The Big Red. Mildish has been writing for The Big Red for the last three years. Through her...