Teachers and Students Reflect on Cellphone Holders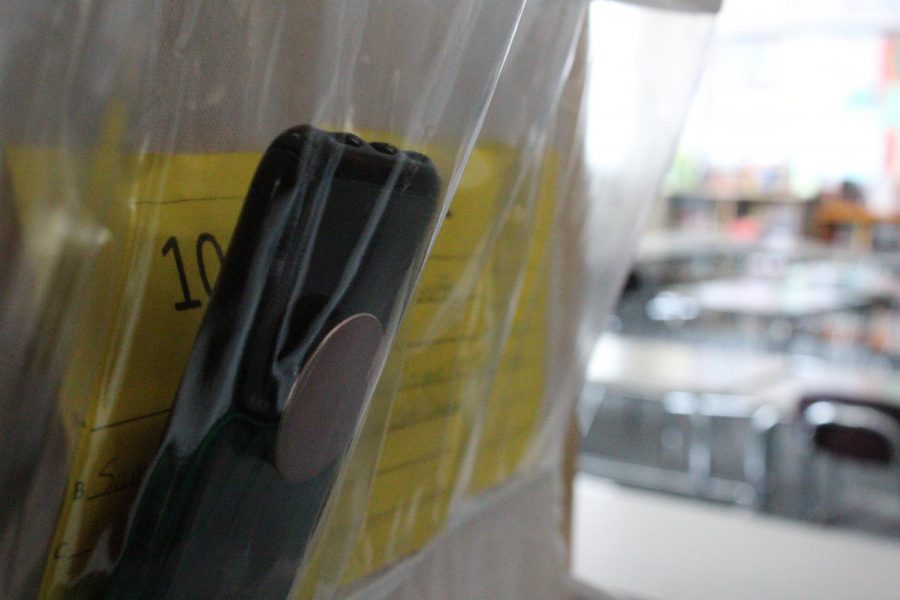 To help students focus by keeping phones out of their hands, many Hudson High teachers implemented a system of using shoe holders to store cell phones this year.
Halfway through the year, staff and students reflect on the initiative so far.
"The cellphone holders cut down on students being distracted by their phones," history teacher Leah Vivirito explained.
She continued, "But it also cut down on them wanting to leave the room to use their phones in the bathrooms."
Many teachers agreed that students were more focused and concentrated in class. 
Andrea Haapanen said, "As long as I don't see [the cellphones] out, it isn't an issue for me personally."
Deirdre D'Urso stated,  "I find that if I forget to ask for the phones at the beginning of class, that the phones will often become a distraction so I really like having it in my room."
Although most the teachers of Hudson High find the phone pockets useful, many students feel that the phone pockets are not beneficial in the classroom and actually create more distractions.
"I've noticed that a lot of teachers just don't use them [consistantly] but also it doesn't really help in any way because kids choose to not use it regardless of the classroom rules," sophomore Evan Gomez said.
"I like having my phone on me because the music helps me not get distracted with other people and I can just focus on my work, " Gomez continued.
Although opinions on the cellphone pocket holders are divided, many said that having the cellphone pocket holders are are an effective and necessary tool in class. 
"The cellphone holders are pretty beneficial for the students because… they will still want to look at [the phone] if it's in their bags because they have the option to unless it's at the front of the room in the holder," sophomore Audrey DeZutter stated.
However, eighth-grader Lily Roughan can see where the idea comes from but isn't sure it's effective.
"I get where they are coming from, they don't want kids on their phone…but at the same time most of the time, there are no phones in the holders and everyone is on their phone [in my classes]. It's a good idea but it's not working."
About the Contributor
Carra Flood, Staff Writer
Carra Flood, class of 2022, has been part of the Big Red for one year and enjoys art photography. Outside of school, she's a dancer and likes to hang...