Girls Hockey Eyes Postseason After Turbulent Offseason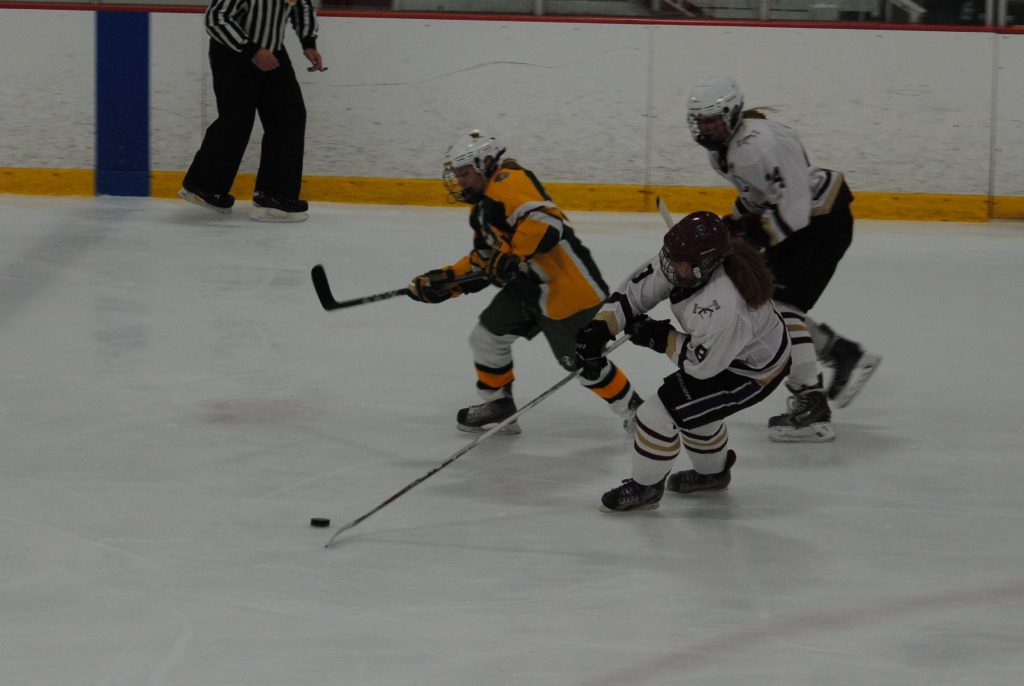 by Dakota Antelman
Cori Hansen scored her first goal of the 2017-2018 season less than 30 minutes into her first game of the season. Hansen hopes the goal will be one of many she scores after rising in the ranks of a girl's hockey team changed by two major offseason departures.
Early in the season, however, she offered few words on her new role — "I like it."
The team includes student-athletes from Hudson, Marlborough, Nashoba and Algonquin high schools but has undergone a period of transition dating back to last winter. Longtime coach Jay Monfreda left the team for a job at St. Peter Marian High School during the offseason. Perennial all-star and then Hudson junior Kayla Currin transferred out of Hudson High School before the team hit the ice again last month.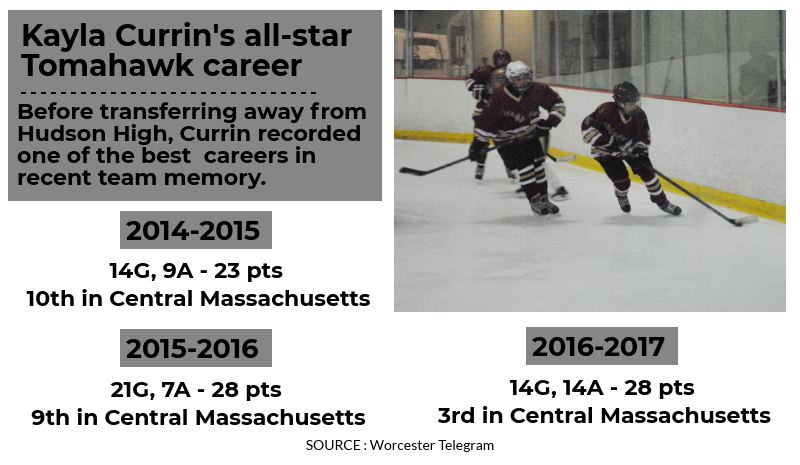 Monfreda spent eight years coaching the Tomahawks and helped build the junior varsity program that many current players used to climb onto the varsity roster. Currin, meanwhile, earned all star recognition in her freshman through junior years.
As their first season without their old head coach and their former star continues, however, coaches and players agree the team has compensated well.
"We coach who is here," said head coach Mike Hodge, who earned a promotion from the assistant coach position with Monfreda's departure. "We've got some great incoming freshman and new talent."
Hansen has been central in that growing talent pool. After scoring just one goal a year ago, she was on pace to score at least seven times in 2017, already with a goal and an assist in her first three games.
The team meanwhile, has outscored opponents 17-9 on their way to a 5-2 record to start the year.
As Hansen has been integral in the team's offense, fellow Hudson athlete Maggie O'Brien has joined the rotation as one of the team's young defensemen.
O'Brien jumped straight to the varsity team this year after gaining experience on a club team prior to high school.
Though she said the transition to the co-op team has been difficult, O'Brien added that she is feeling better especially after she and her fellow defenders helped shut out King Philip High School in their season opener.
"It's a lot more comfortable now," O'Brien said. "It's not as awkward as it was in the beginning. I talk to more people now, so it's easier to communicate with each other on the ice."
As the team continues to coalesce under its new coach and new leaders, it does so with the added challenge of being a co-op program. Hansen and Hodge, however, said the structure still allows for team unity, O'Brien said the split program made difficult the process of getting to know her teammates earlier in the year.
"It's weird because when you're here at school, you can talk about the practice or talk about the game, but I really can't do that with anyone," she said.
She added that this persists even with her Hudson teammates, as she is the school's only freshman in the varsity lineup.
Nevertheless, after missing last year's playoffs by just one point, this year's Tomahawk team began this winter with the goal of uniting their 11 underclassmen under their new head coach and the group of four upperclassmen left on the team.
Despite losing leaders behind the bench and on the ice before the season began, Hodge and Hansen agree that process has been quick.
"We have a good infrastructure," Hodge said. "[We've got] good assistant coaches and good leadership on this team. It's been very seamless."