At Home in Hudson
Pamela Porter Reflects on her Time as a Student at HHS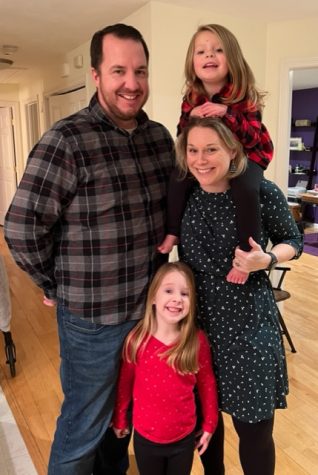 2003 Hudson High graduate, Pamela Porter, always knew she wanted to teach. Not realizing it then, she would soon be back in the same halls of the place she experienced her original  High School career. 
Porter wanted to teach somewhere she felt close to home, while also having an adequate academic system.
"I really wanted to be somewhere I felt challenged but also felt like we were in a system that had the means to help kids," Porter said, "I love our community so I wanted to be in a place I could be with my family too." 
As a teenager, Porter never had the intention of teaching the high school she had once attended, but she wanted to be back in her hometown.
"I came back to teach second grade in Hudson and ended up interviewing for the high school position which I really liked," Porter said. 
Returning to the school in 2008 to teach, Porter not knowing that she would end up chaperoning school dances just like the ones she had attended as a teenager. However, instead of playing Eminem and Nelly at the dances in 2003, she would chaperone with Nicki Minaj and J. Cole blaring.
"I have chaperoned several dances in the last 13 years. I had never thought about being on the other side until I was an adult," Porter said. 
From having a crush on Will Smith to going to Janet Jackson concerts, Porter experienced High School in a different era. Listening to James Taylor while walking around in the halls with her messenger bag around her shoulder, and stopping to talk to her friends at lockers.
Porter and her friends were involved in lots of clubs such as Drama Society, Yearbook Committee, Spirit Committee etc. Additionally developing a love for musical theater. 
"I performed in theaters so I listened to musical theater and was lucky enough to see a lot of amazing shows," Porter attended different concerts as well such as Dave Matthews Band, Aerosmith, Prince, and much more.  
Initially, Porter did not know that she was gonna teach history, but she did always have a love for the subject. She went into college for her student teaching, and it was not until she got to Hudson that she realized the fondness she had for history and creating empathy with the students. 
"I really loved working with this age group and really loved having academic conversations and seeing students grow their critical thinking skills, digging in through history, building empathy…" she said.
Back then when social media was limited, and cell phone use was rare Porter was a social butterfly. She was involved in various extracurriculars with a tight group of friends. She was really active at school and was in many clubs and sports like media club, outdoors club, sports, and much more. Porter now runs the interact club, a leadership club that helps students give back to the community and helps group communities together to better our world. 
Additionally, she is a mom of two and enjoys cooking and baking. Her children have a chance to continue on the "legacy" per say of going to the same high school as she once did. "I'm excited about it. I'm not really sure that they will want to carpool to school with their mom…  I think it would keep me more invested," Porter said.