Freshman: Can They Ever Catch a Break?
Freshmen Class Write an Original Play With Only Three People
The high school's batch of 2022 class plays will be performed unlike any year before. Although the senior class does not have a play this year, the real show-stopping story is the three-person show and cast-written script of the freshmen. 
Amelia Dufour, a member of the 10th-grade class, described the plays as short straight plays. They are divided by grade and each year has a different show and a director. "The shows are quick and fun, plus we get to work in a little competition between grades."
The director of the ninth-grade class play, Alyssa MacDonald, worked to help write and direct a show. Even with several challenges, she has been positive and excited through the long process.  
With every other grade having a sizable cast for their script and an appropriate play, the freshman class struggled to work with a script written for three people and faced many challenges with multiple controversial topics. 
Freshmen Abi Stone, a cast member said, "It was not a good script, it contained some inappropriate topics."
However, it left room for freshmen to overcome this obstacle.
Director MacDonald says, "Competitive plays are a great time to give kids a chance to experiment with their ideas and help them bring them to life on stage all while learning the process of putting on a show."
Traditionally, the director of the class play would choose a play for the cast to perform. But, this year after receiving their script, the 9th graders have made the decision to write a new one themselves.
"I worked with them to help develop a plot and storyline with a solid beginning, middle and end," says Director MacDonald.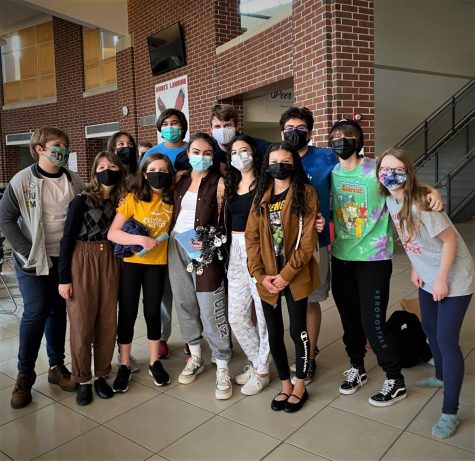 With the freshmen still writing their play's own script, it has put them further behind than all the other classes who already are rehearsing. 
Stone says, "We just have to rush everything. Because of the setbacks."
Which begs the question, will the freshmen be ready to perform? 
Marcos Godoy, Secretary of Drama Society and a member of the junior class play said, "I think the freshmen are going to have a very funny show since they are so creative. They are sure to write a show that will entertain all audiences."
All grades performances will take place on Friday, February 11 after school and Saturday, February 12 at 2:00 p.m. in the HHS auditorium, which will be followed by the presentation of awards and certificates for the cast of different plays.