Crafting Joy for the Community
Hudson High's Giving Hawk Project Emerges
After the pandemic, art teacher Kerri Ann Lesage wanted a way to bring joy to students and the community. Out of that desire, The Giving Hawk project emerged;  a creative space for students to create affordable gifts for families during this holiday season.

"I think the past couple of years have been really rough with the pandemic. I know a lot of families have felt the financial strain and also the emotional strain," LeSage said.

LeSage was inspired to create The Giving Hawk after a rough couple of years because of the pandemic.

"I just thought that this could bring some joy to our students and our community, to help those not only with a financial burden but also just bring a little bit of light and joy to families during the holidays," LeSage expressed.

Items that students part of the Giving Hawk created during this enrichment will be offered to purchase during lunches on Monday, Tuesday and Wednesday next week.

"There's going to be jewelry, ornaments, small soap dishes, baskets, gift cards, gift tags, origami ornaments," LeSage said. 

Although the Giving Hawk was offered as an enrichment, many students also created products for the Giving Hawk during extra class time and outside of school.

"We have a workstation, students do it during our arc periods so, on Thursday, that is the specific enrichment day kids come to, but any kids who come in here to create art during arc have the option to also use those materials and create things," LeSage said.

The Giving Hawk |by HudTV

Students used recycled materials to craft their unique products.

"I figured this is a great way to reduce reuse and recycle but also teaching students possibly new skills," LeSage said.

"I like it because you get to learn new things like how to make jewelry and how to make ornaments," said 8th grader Emma Shea.

By creating the Giving Hawk, students can learn many new skills and also give back to the community. 

"Students should know that this enrichment will teach them techniques in arts and crafts and gift making. Also, it is for community service so it's a great way to give back," LeSage said.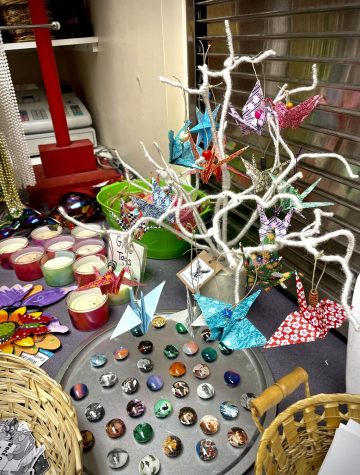 Some students choose to participate in this to learn something new.
"I wanted to participate in this, not only because I love making jewelry for other people, but because I want to make gifts easy and accessible for students at our school," said senior Lilly Ropes.
The activity also provided a sense of relief and a break from rigorous schoolwork.
"I like making things in arts and crafts because it's really relaxing," said 8th grader Izabella Lee.
The project will also help students buy gifts who may not have access to transportation or funds to attain them.
"It's just really cool to make stuff and give it to people that need it," LeSage said.
"It would help not only with a financial burden but also just bring a little bit of light and joy to families during the holidays," LeSage continued.
Although it hasn't been ironed out yet, they are planning to donate the money to a fund.
"It will go to the Wendy fund or we're gonna set up a whole separate fund that will be called the Giving Hawk fund. That will be a place where with that money we'll go out and buy a bunch of gift cards and send them out to families," LeSage said.