Engineering a Solution
Dailey's Engineering Design and Development Students Build Device To Give Cat Steady Mobility.
Tyga wobbled across the engineering table while attentive students helped find him a solution for his unsteady legs. For his whole life, this cat has not been able to slink and stroll as most felines do.
Tyga has what is commonly known as "Wobbly Cat Syndrome," or Cerebellar Hypoplasia. A neurological disorder caused by an underdeveloped cerebellum, it affects the coordination skills of the cat.
There is no cure for this disease so former Hudson High teacher and coach, Steven Martin, one of the owners of Tyga, approached his former colleague, engineering teacher Ryan Dailey to see if students could help find a solution for their 5-month-old cat.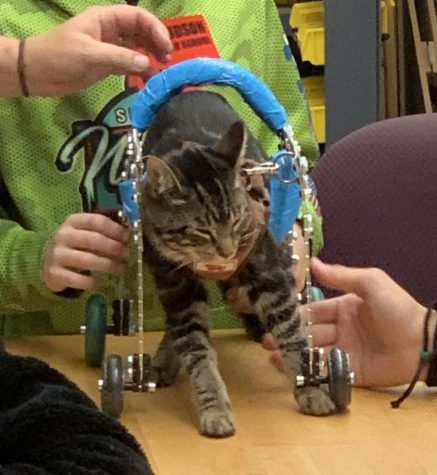 Engineering Design and Development students took on this challenge and spent two weeks creating a device for Tyga, which would potentially help him walk.
"We dealt with the situation by brainstorming possible ideas and then pursuing one as an actual solution," junior Aidan Firth said.
Though the students had taken engineering courses before, this was the first time it affected more than just their grades.
"Never before in any other engineering courses do you get a real client," junior Kian Hesemeyer said, "It was really nice and this is the only course where you get something like that, being able to see what it's like to be an engineer."
The other students also enjoyed this.
"I really liked that we got to actually meet that cat and family," Firth said, "[and] that it was actually important and it affected the cat and family."
Hesemeyer added, "Being able to work with your group members and being able to find an answer to the problem, and of course, bringing a cat into school, it was obviously fun."
But it wasn't just fun, it was a learning experience, too.
"The fact that they were able to see the impact directly was a positive experience and for many of them an eye-opening experience," Dailey said.
This project combined and expanded upon information from previous engineering courses to make this project a reality.
Hesemeyer said, "It takes all your previous knowledge and funnels it all into one design."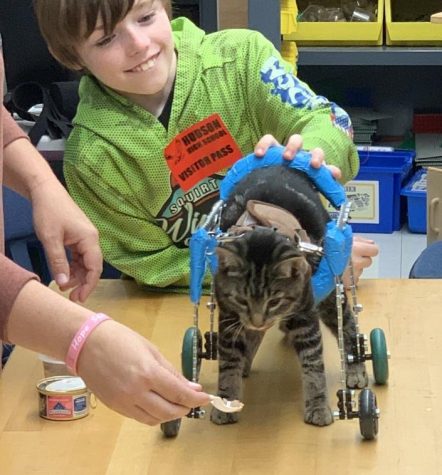 It also helps to transition into the rest the course expectations
"This mini-project was a great way for the students in the class to get prepared as they began to set out on the rest of the course," Dailey said.
After the testing, Tyga was ready for his final product.
"Tyga and his family came in and tried on 3 designs. We used the information gained from that sizing/testing to produce a hopefully final design for him," Dailey elaborated.
On October 10 Tyga came in for his official chair trial, which though he wasn't fond of at first, did allow him to walk.
"You don't normally have animals being brought into school. It was new and it hasn't been done before," Hesemeyer explained,  "Helping animals is always fun!"
About the Writer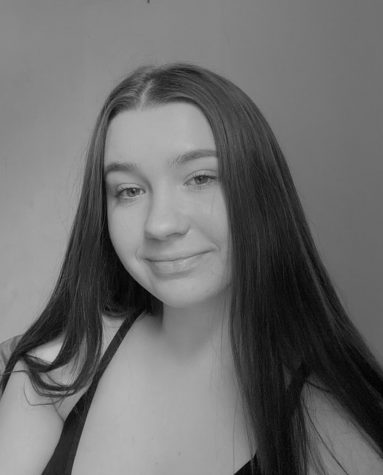 Veronica Mildish, Editor-in-Chief
Veronica Mildish, member of the Class of 2021, is a fourth-year editor for The Big Red. Since joining the editorial staff her freshman year, Mildish's...