Hobbs to Publish First Book of Poetry
English teacher Carol Hobbs will publish her first book of poetry later in 2019. This is Hobbs' year, as she was also recognized as a Perugia Press Semi-Finalist this April in their national competition for woman poets.  
Her passion for poetry and writing grew from a young age growing up in Newfoundland. From her early beginnings as a writer, she has developed her craft and has had her poetry published in many journals and publications. The forthcoming book from Hobbs is her first published piece entirely of her work, focusing on her life.
"The title of the book is New Found Land. It's three words and the book is actually about the experience of my life immigrating to the United States from the island of Newfoundland in Canada."
The book, a collection of smaller poems, started as a way for Hobbs to process all the transition she experienced moving to the US. For her, poetry seemed like the perfect way to reflect. This grew into her desire to have her work published.
"I've been sending these poems out for publication in various magazines, anthologies, journalists for quite some time," she said
Finally, the hard work has paid off as The Main Street Rag, based out of North Carolina, has decided to publish Hobb's work.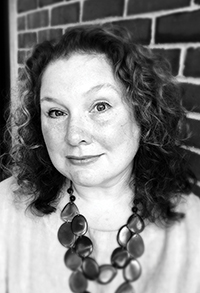 "They also published a magazine journal so my book should be coming out hopefully, fingers crossed, by November 2019."
She elaborated on the experience.
"That whole process was something I felt that I had to consider in poetry and I've always written poetry from when I was a kid right on up through college."
Pieces of her life, from childhood to now are evident throughout the pages.
"The first poem in my book is a poem call 'Narwhal' and it's a little poem but it's a very special poem to me. It's about that narwal that I saw as a child," Hobbs explained, "I put it at the very front of the book because I think it speaks so much about who I was as a child in that place."
As she edited the poem, she narrowed down the ideas and length.
"It became this smaller piece, but as it got smaller, I think it got better."
Poetry can become anything really, and from anything at any time, she commented.
"You could read fiction, you could read non-fiction, you could read about sites online, read poetry there are a lot of great modern poets out there."
Poetry isn't always easy, Hobbs acknowledged, as some find writing poetry harder than others.
"It actually is hard work, and I put a lot of time into my writing, I actually have been part of a professional writing workshop for close to 20 years here in this area."
She uses creative approaches to get her ideas as well.
"So instead of journaling, 'today I went to the grocery store', I actually try to use my journal or my free write notebook to spin fresh language and new ideas for writing."
Hobbs encourages others to publish their work, even if they are nervous to do so.
"So there are so many opportunities, but It's okay if you write in private and secret and you don't tell anybody, it's fine, But I think to really improve your work, to do well with your writing, you have it be able to share it and to take critique."
About the Writer
Paige Thomason, Staff Writer
Paige Thomason, class of 2022, is new to the big red this year. She enjoys photography but mostly doing sports photos. In the fall, she plays volleyball,...