German Cinnamon Stars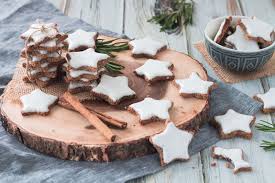 Whether you celebrate Christmas, Hanukkah, Kwanzaa, or nothing at all, we can all agree that having a traditional family recipe is one of the best things around the holidays.  
The smell of fresh almonds and soft dough spread throughout the air.  For Whitney Nielsen, her traditional family recipe is of German origin and called Cinnamon Stars or Zimtsterne. Although Nielsen is mostly Danish, she likes to use this recipe to celebrate her German culture around Christmas every once in a while.
Nielsen's first discovery of the cookie is actually quite fascinating. The first time she learned about the recipe was through an all-German novel her husband's great-aunt wrote. "One of the books is a memoir that talks a lot about her childhood, and it mentioned that these were her favorite cookies. Of course, I had to try making them," Nielsen explains.
She actually found out how to make the famous German cookies through the Food Network recipe website. She explains, "They have the advantage of being delicious and gluten-free, which some people like." Food Network has an extensive amount of recipes you can find for almost any food.
The cookies do not require a massive amount of experience in German cooking. For most people, the favorite part of the cookie is the almonds.
"You can eat them whenever. Honestly, sometimes I eat the broken ones for breakfast," Nielsen elaborates.
Cinnamon stars take a bit of time to create but are well worth the time and effort. One of the main ingredients used is almonds, that not only make the cookie unique but also help to make dessert a bit healthier.
This year, if you are willing to take a risk and bake a special treat, cinnamon stars are the perfect route to take if you are up to spread some German culture while adding a healthier vibe to your celebration.