From Music Class to Magic Kingdom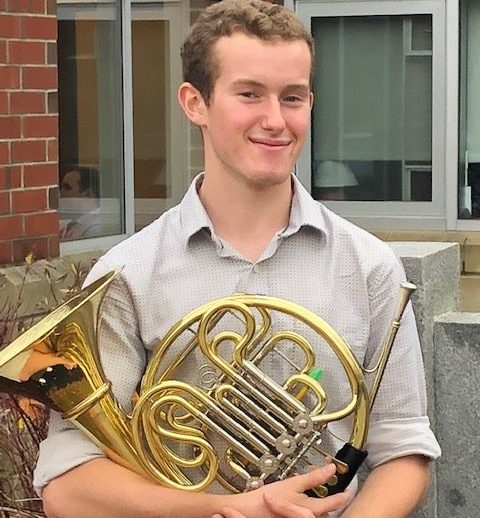 The stage fills with bright light as people shuffle around finding their seats and the quiet murmurs of small talk quiet down. Sean Morton takes his seat on stage and prepares for one of the biggest performances of his life thus far.
Everybody has a passion in life. For Morton, his passion has brought him all the way to Disney's Coronado Springs Resort at Walt Disney World in Orlando, Florida to play the french horn in the 2018 All-National Honor Ensembles. He played with 550 students from 49 states, at only 17 years old.
The French horn has been one of Morton's hobbies ever since he was in fourth grade. He has always admired it because of "how unique it looked, with its twisting valves and its beautiful brass. Combined with its mellow, full sound" said Morton.
Ever since fourth grade, Morton has continued to play throughout middle school and high school with teachers and family who have inspired him to keep playing.
Mr. Kasey Galligan, his elementary school band teacher was the person who inspired Sean to start playing the french horn. "The demonstrations he gave of every instrument made me so full of awe at how skilled one person could be at so much music". Mr. Galligan helped Sean develop his love for not only the french horn but his overall passion for music as well.
Another important inspiration in Morton's life is Mr. Jason Caron, the Hudson High School band teacher who also increased Morton's passion for brass music. Morton describes him as "the person who helped me the most to get to where I am with music today. He's the kindest, most knowledgeable teacher I've ever had."
Morton has became a better musician because of Mr. Caron not only because of his amazing teaching abilities; but because Caron held informal lessons with him after school, that has helped him immensely. With teachers like Mr. Caron, Sean's dreams of pursuing music professionally is becoming a reality,
Morton has also been inspired by artists like Sarah Willis and David Cooper, from the Berlin Philharmonic Orchestra who post new french horn videos on YouTube that interest Sean. Daniel Morton, Sean's brother has also inspired him to begin his journey with the French horn because of his passion for the euphonium: another brass instrument.
Throughout his life, Morton has been extremely successful with his journey in music. Along with the French horn, he has also played the trumpet and trombone in some Hudson High Musicals and participates in the HHS Pep band as a bass drummer.
Morton has also auditioned for districts three years in a row and has been 2nd and 4th horn in the orchestra. He was accepted last year in the All-States Orchestra as 2nd horn and was chosen to be a part of the New England Conservatory Youth Philharmonic Orchestra for the entire year.
His first audition was in 10th grade. "I was so nervous I could hardly play the fast parts of the Mozart audition piece. But I got in! I was the 12th out of 12 horns accepted to the Districts band and orchestra… I had a great time playing our concert piece, Night On Bald Mountain, and the experience made me eager to do it again in junior year," Morton explains.
On top of all of this, Morton is also an exceedingly great student and is at the top of his class, creating a pretty impressive resumé. He explains that in order to stay on top of his studies and practices that "the secret is to set aside time when you're only doing music in the day. When I need to do homework, I put music out of my mind; when I'm playing music, I focus only on that".
A couple of days after the performance, Morton elaborates on his eye-opening experience. "I loved it–being with the other horn players taught me a lot about how different minds approach music differently".
He explains how not only was the talent at the event incredible to experience, but how he has made long life friends he will remember forever, just over the course of a couple of days. "While we were at Magic Kingdom, we were all caught in a rainstorm, and got soaked going from ride to ride–but since everybody left, we got to take goofy pictures on Splash Mountain over and over".
He explains how his experience was not only exciting and new, but just like everybody else, Morton was a little nervous that he wasn't prepared enough and should've practiced just a little bit more, but once he reached the stage, he remembers "that everybody's human and nothing is ever perfect even at the concert".
Morton remains humble and sophisticated as he describes doing "okay…. I played well at some points and not so well at other parts… I know how to improve on my mistakes". which is quite an admirable quality to have during a high- stake performance like this.   
Taking it all in, Morton describes nationals as an amazing experience for him, which sparks an interest in his hope to get others involved. "I'd encourage anyone who's passionate about music and has the motivation to reach for higher music festivals".
As we can tell, Morton's dreams are nothing short of spectacular. He hopes to be accepted into Northwestern University in Chicago. He explains that is has a popular dual degree program that could help him pursue music and engineering in 5 years. Engineering is another interest of Morton, as he is leaning towards masking it his major in his future studies.
Being the tenacious and determined student and musician Morton is, his hopes remain high as he continues to inspire others. Morton explains that although he enjoys engineering and would be happy to invest in future opportunities involving that particular study, his biggest dream is to play for the Boston Symphony Orchestra. "To play in the most exciting orchestra around, and only a half hour drive from Hudson would make me happier than anything."