A Haitain Christmas Meal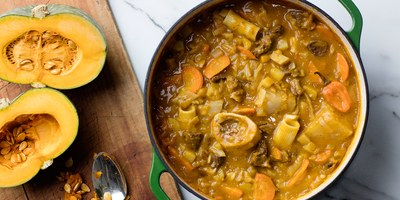 Every year on New Years day sophomore Jenny Larrieux wakes up early with her family to finish making soup joumou, a Haitian New Years tradition.   
"My whole family comes over to help," Larrieux said. Once they finish making it the family enjoys it for breakfast.
This tradition formally started on January 1, 1804 when Haiti gained independence from France because they were considered lower class they did not have certain privileges like eating soup. When they gained independence they were able to eat soup joumou, and ever since Haitian have been eating this meal.
The soup tends to consist of beef, squash, potatoes, and cabbage. Larrieux's family uses a variation of the traditional squash soup, but instead of beef and cabbage, their soup is complimented with flour.
"The flour cooks into bread and tastes amazing."
This recipe is a very strong tradition.
"It has been passed down through my family for decades, every year we make the same soup," Larrieux said, "We only eat it at this time of year."
Larrieux's first memory of making it was when she was younger, she was at her aunt's house and the soup all fell off of the counter, they had to make a whole new batch, "It was stressful at the time but we all laugh looking back at it."