Senior finds success in sport blending bookwork with sword fighting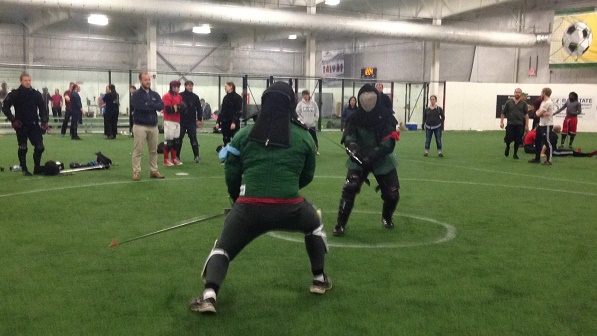 Hang on for a minute...we're trying to find some more stories you might like.
by Dakota Antelman
Senior Cam O'Connor's sport of choice has him studying from a textbook steeped in sixteenth century blood.
In 1579, a German court hanged its author, aristocrat and sword fighting master Hector Mair, for embezzling the money to pay for its publication.
"The research is a very integral part of this because this sport is very well documented in certain cases [like in Mair's book]," O'Conner said. "You can actually go online, and you can find plenty of books that are very similar to a sort of football playbook."
Learning from Mair and others, O'Connor has spent the past three years rising within the sport of Historical European Martial Arts (HEMA). Though he has participated in more well-known sports like track and field and soccer in the past, this one blends scholarship with athleticism in a way few others do.
The fights involve all forms of martial arts, allowing opponents to manually strike each other while also allowing them to use their swords. The fights vaguely resemble those in shows like Game of Thrones and Lord of the Rings with one key difference — they're extremely short, often lasting less than 30 seconds before one competitor pushes the other out of the ring or sustains enough strikes on their opponent.
On it scholarly side, HEMA leans heavily on primary sources written centuries ago. As one community, it studies those primary sources with the goal of understanding and preserving the advanced fighting styles of medieval European noblemen. As competitors, athletes like O'Connor then take those studies to tournaments where they battle using actual medieval style weapons.
"You can find all of these plays as documented by masters from their time," O'Connor said, later adding. "So you kind of go through a process of both learning and fighting."
O'Connor's interest in medieval combat began while watching TV shows like Game of Thrones and movies like Lord of the Rings.
Inspired by the depictions of fights in those programs, O'Connor first considered fencing.
"I started to realize it wasn't really for me though," he said. "It wasn't really the kind of full contact Game of Thrones-esque stuff I wanted."
That led him to HEMA, a sport he discovered and quickly fell in love with when he visited a local club.
"Lo and behold, it was exactly what I wanted," he said.
Balancing the rest of his life with fighting, O'Conner said he still sometimes spends up to four hours a day practicing either at his HEMA club in Acton or in his backyard.
From there, he travels from time to time to tournaments, where the true physicality of his sport, he said, becomes clear.
"[Starting out] I thought, you know, it's not that bad," O'Connor said. "But then I really experienced getting clocked in the head, and I realized that even though the fights don't last that long, it does take a lot of physical endurance."
O'Connor said he regularly returns from tournaments with welts or dark bruises from the blunt metal swords he and fellow fighters use in fights. He has also seen more gruesome injuries, recalling a friend who took such a hard hit to his arm that he suffered a deep cut even through the canvas suit fighters wear.
"It is fun, but you certainly do get injured," he said.
Even at the tournaments though, O'Connor said HEMA's historical focus is hard to miss.
He said Axel Peterson, a Swedish fighter O'Connor described as "the Tom Brady of the HEMA community," is, at times, offputting to people who first meet him.
"But that," he said, "[is because] he'll be talking about something in a language that was used four hundred years ago. You'll be sitting there thinking, 'What is this guy saying?'"
As Peterson is more than a decade into his fighting career, O'Connor is still just three years into his.
Seeing a future for himself, however, in a sport where age rarely puts a limit on a fighter's potential, O'Connor hopes to spend many more years studying and practicing the skills of aristocratic fighters like Hector Mair who, either by the noose or other means, died hundreds of years ago.
"I'm doing this for as long as I can," he said. "It's really kind of become a huge part of my personality and identity and means a lot to me, and I think it means a lot to everyone who does it."