Student Drug Use, Bullying Rates Fall, as Stress Rate Stagnates, according to Survey
by Dakota Antelman
Superintendent Marco Rodrigues touted Hudson's success in lowering drug use and bullying rates, but he acknowledged the persistent problem of stress in Hudson students as he presented the results of last year's MetroWest Adolescent Health Survey to the school committee last Tuesday.
The data released is just some of the information the survey collected. Still, it serves as a measuring stick for the district and the success of its efforts to improve student health in Hudson. Administered every other year, the release of the 2016 data comes almost exactly two years after data from the 2014 survey sparked concern and some action over mental health and drug abuse in the district.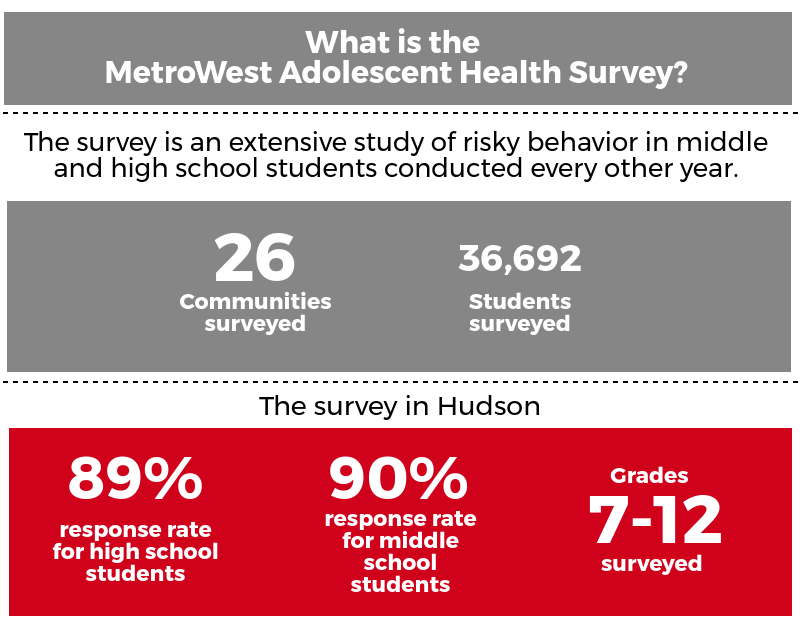 "We look at all those indicators to understand the landscape of a school. When we look at those indicators now, they're trending down," Rodrigues said. "That's encouraging. We're not where we want to be yet, but we see a decrease in the number of incidences that we are being able to capture through the survey."
Indeed, recent electronic cigarette use among high school students fell 12% in 2016, continuing a downward trend from a peak of 39% in 2008, the first year the survey was administered. Cigarette smoking also decreased among middle school students while rates of electronic cigarette use fell as well.
Lifetime alcohol, marijuana, and prescription drug use all continued downward trends in both middle and high school categories.
Bullying and cyberbullying rates also decreased, according to Rodrigues's presentation.
Director of Nursing Lee Waingortin, who prepared the presentation, attributed those decreases both to improvements in wellness education and to the efforts of the Hudson Substance Abuse Prevention Coalition. The Coalition grew between the 2014 and 2016 surveys and has helped organize a variety of public awareness campaigns about drug abuse, ranging from a 5k last fall, to a demonstration to parents about how to identify possible signs of drug use in teens.
"There's no magic bullet," Waingortin said. "But things are trending down because of efforts in the community and in the district."
The mental health portion of the survey results, however, showed smaller gains by the district.
While Rodriguez noted a decrease in depressive symptoms and self-injury among high school students, he said stress levels remained unchanged after they spiked from 25% in 2012 to 35% in 2014.
"You don't have easy solutions for that," Rodrigues said. "You can council a person. You can help a person maybe manage time better or be able to do things different, but, in the end, I cannot control somebody's personal life. I cannot control somebody's attitude, or caseload, or job issues, or family issues, or household situation."
In addition to high school data, stress rates among middle school students continued to increase from 11% in 2012 to 19%.
That increase persists even after the district took action to mitigate middle school students' stress after the 2014 survey. They, specifically, implemented a three-year grant they won in 2016 allowing them to hire additional staff to help students transition into the middle school after elementary school or extended absences. Though the district has worked to address these issues, Rodrigues noted that they remain at the core of the ongoing stress issue among middle school students.
"Everything changes," he said. "You're in a larger environment where you rotate from class to class. I think all those things impact [middle school stress]. I don't think it's all of it, but it is part of it."
While Rodrigues did address data on depressive symptoms, self-injury, and suicidal behavior, his presentation did not include the actual numbers behind those statements. It simply said that there was a "decrease in depressive symptoms and self-injury while there was no notable change in suicide attempts since 2008."
The presentation's summary of that data for middle school students was even more vague.
"After increasing from 2010-2014, reports of mental health problems are somewhat lower in 2016," it said.
In the past, Hudson has released hard data on those categories. According to Waingortin, however, the district will not release that data this year.
The superintendent of each district surveyed decides what data get released publicly. Two years ago, Rodrigues's predecessor, Jodi Fortuna, released raw data on several "key indicators," such as suicide attempts or recent depressive symptoms. This year, however, Rodrigues decided to publish only his presentation, not the data it analyzed, according to Waingortin. As a result, the only trends publicly available are the ones specifically mentioned in the presentation.
"It's not that anyone is trying to hide anything, but it can be misconstrued or misread by individuals who may not know the backstory and what is being done," Waingortin said of the decision, noting that each of the 25 other districts surveyed publish varying amounts of their district-specific data.
Regardless, the Hudson Public Schools and their students are already considering possible paths forward from this year's data.
Sophomore and student representative on the school committee, Ben Carme, said he feels little has changed since the 2014 survey, even though Hudson did emphasize mental health education in its wellness curriculum in recent years.
He hopes that, with the 2016 data, the district, among other things, solicits students' feedback about possible remedies to student stress.
"We all know that we have to get these perfect scores for college," said sophomore Ben Carme. "That leads to stress from eighth grade all the way up until when you're a senior. There is no specific group to help deal with that. That's the biggest problem."
Waingortin, however, said Hudson's efforts are having a positive effect on key categories. Going forward, she hopes the district can increase the community's involvement in continuing downward trends in such areas as drug use, bullying, and some mental health categories.
"We're certainly not letting down the efforts at all," she said. "If anything, we need to keep on track with what the data is. So far, it's showing good response to what we are doing. We need to continue those efforts."