Softball Beats Framingham in Cheryl Jones Tournament, Continues Hot Start
by Dakota Antelman
Longtime softball assistant coach and acting head coach Ray Girard hastily answered his phone Tuesday as his team celebrated their 8-1 win over Framingham in the first round of the annual Cheryl Jones tournament.
Newly appointed full time head coach Laura Bowen was calling from Hawaii to check in on the game's result. But her team had already ensured that she had little to worry about as they improved their record to 3-0 with another day of solid fielding, batting and baserunning in particular.
"It showed how solid we are as a team," said pitcher Sophia Togneri. "There were a lot of balls in play, and everyone needed to hit well and hit as a team to get the win that we did. It shows how we're really bonding as a team."
Though it started slowly, the Hawks scored in the middle innings of the game and held on for the win. After failing to get a runner on base during the first inning, the Hawks scored three times in the game's second frame to take a 3-1 lead.
They tacked on another run in the third inning when Emily White drew a two-out walk with the bases loaded that scored Togneri. The walk was already the eighth of the day for the Hawks and the fourth in just the third inning alone. They finished the game with 13 walks.
"The first three innings, they were swinging at stuff over their heads, but they finally got it together from then on and they knew they needed to stay focused," Girard said about the walks. "If you start swinging at pitches over your head, you're going to pick up bad habits. This is a good team, and we didn't do that too much."
Hudson followed up White's walk with a fourth inning offensive explosion that stretched their lead to 8-1. They racked up 10 at-bats during an inning that started with a leadoff single by Megan Miller and ended with a ground-out also by Miller. Ryann Sawyer, Fillmore, White and Sydney Chiasson all picked up RBIs between those two Miller at-bats.
The Hawks quieted the Framingham bats from that point forward, allowing just one hit as they maintained their seven-run advantage.
Togneri, in particular, finished the game with six strikeouts, bringing her season total to 24. She also allowed just three hits, the second time this season she has done so. However, she was quick to deflect praise to her fielders.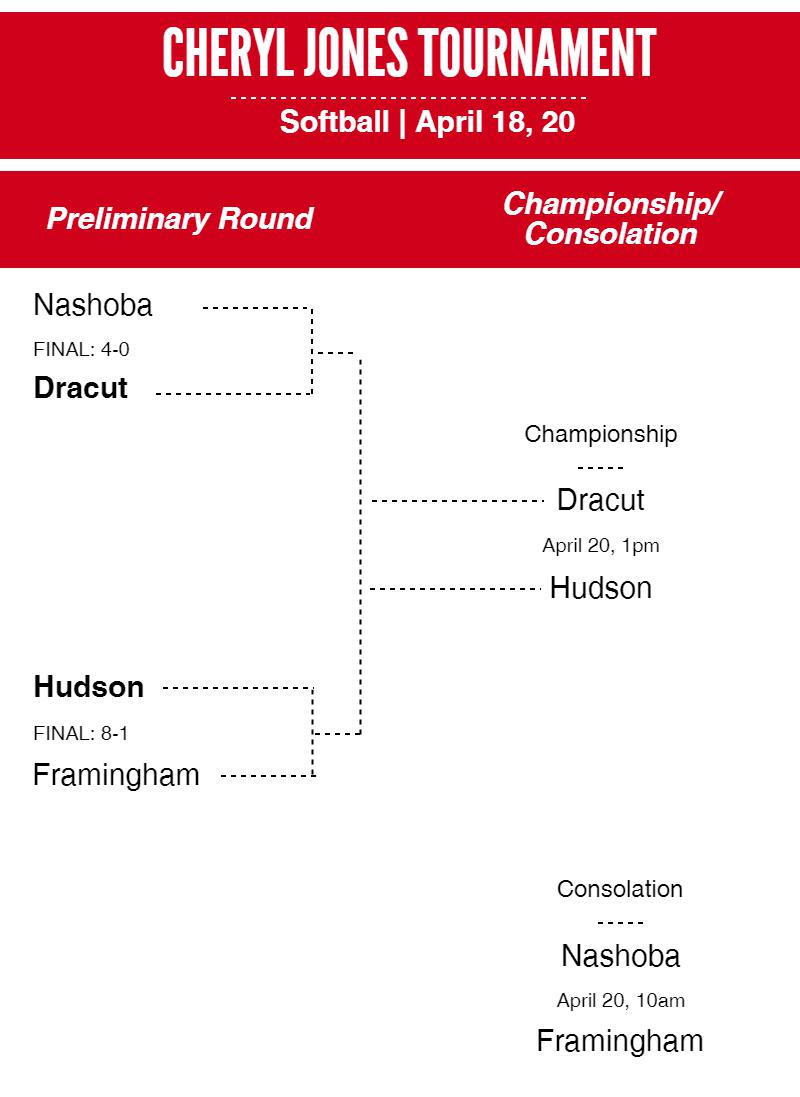 "I was kind of nervous coming into this season after we had an infield that was so tight last year with all the seniors," she said in reference to last season's infield quartet of Haley Gaffney, Keeliey Zompetti, Keaton Prashaw, and Steph Hamilton. "I wasn't sure how we were going to work together or if it was going to be the same [this year]. Today really gave me confidence in my fielders that, no matter what I throw, they'll have my back."
Her infield, now played by Haufe, Miller, Amanda Doucette, Natalie Bishop, and, later, Ashley Sousa, committed no errors in Tuesday's game and recorded 9 of the contest's 21 outs.
The Hawks now move into the championship round of the Cheryl Jones tournament. The final, scheduled for Thursday at 1 p.m., pits them against Dracut.
"They can hit, they can field, and they have an outstanding pitcher, just like us, so it should be interesting to see," Girard said. "It's going to be a battle, and that's the way it should be in the championship round."
From there, with Bowen back as their head coach, they will resume their regular season schedule with games against Shepherd Hill, Nashoba, and Groton-Dunstable next week.