Senior Haley Gaffney Marks her 100th Hit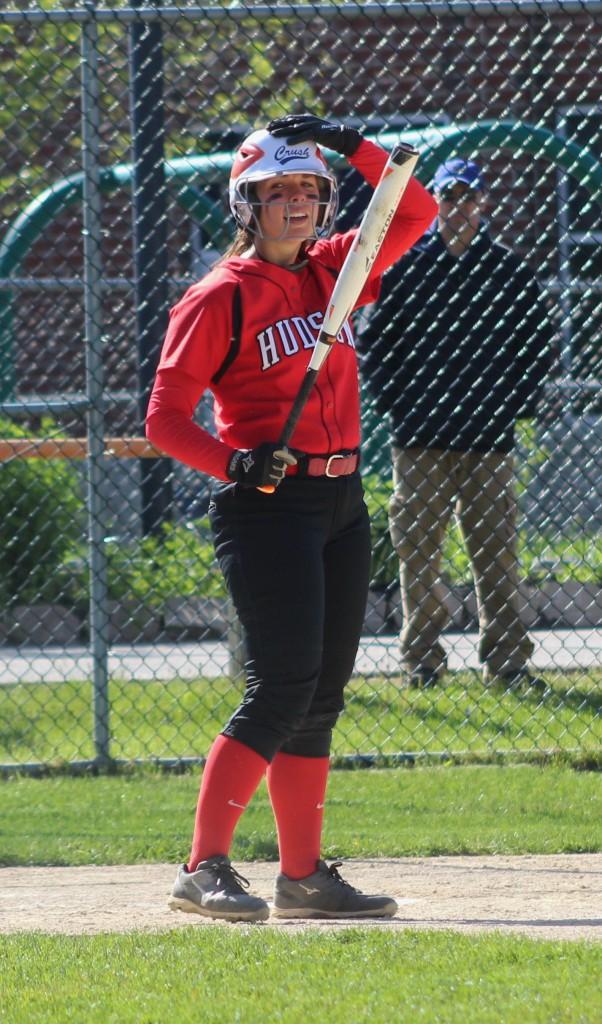 by Austin Temple
Senior Haley Gaffney stepped up to the plate under a cloudy sky against Quabbin on May 5, with expectations to notch her 100th hit in the first inning. With a line drive to centerfield, Gaffney became one of the few that have reached this accomplishment.
At the beginning of the season, Gaffney was only 12 hits away from 100, and it was on her mind every day. It was more of a relief for her to finally achieve this goal.
"I wanted to get a hit so bad. So many people were saying that they were hoping that I'd hit a homerun for my 100th hit. I was pretty sure that wasn't going to happen, but I'm just happy that it was meaningful."
After the hit, varsity coach Mary Beth Cashman ran on to the field and politely took the ball from Quabbin's pitcher and handed it to Gaffney. While Gaffney seemed relieved to pass this milestone, her teammates cheered her accomplishment.
After the game there was some controversy regarding if her hit had really counted because the game had been called off and suspended to be played at a later date. Quabbin's team, who knew Gaffney was attempting to get this hit, was just as upset as the Hudson players. However, it was sorted out, and her 100th hit did count. The game was rescheduled 3 weeks later, and Hudson swept Quabbin 30-1.
Since eighth grade, Cashman has coached Gaffney, and she has seen her grow as a leader and a player. Cashman explains how Gaffney has been learning to include her younger teammates and that she serves as a role model to the people around her. She is conscious that she is always being watched, and she gives her best effort each time she steps on the field.
Haley Gaffney plays in a game against Nashoba. Gaffney would notch two hits and an RBI in the game.
"Even before being on the team with her, I would just hear all these great things she would accomplish," freshman right fielder Emily White said. "It was really motivating for me to keep practicing and get better."
Gaffney has had 24 hits since that Quabbin game. But her personal milestone is not the only success of the season. Varsity softball heads to playoffs for 4 consecutive years leading the Midland League B division with a 16-3 record. Cashman is hopeful that Gaffney will lead the team to victory and land their first playoff win in 2 years.