Bleachers packed with the Red Sea, parents, and players made their way to Clinton High School for the opening Football game on September 8, only to be met with thunder and lightning.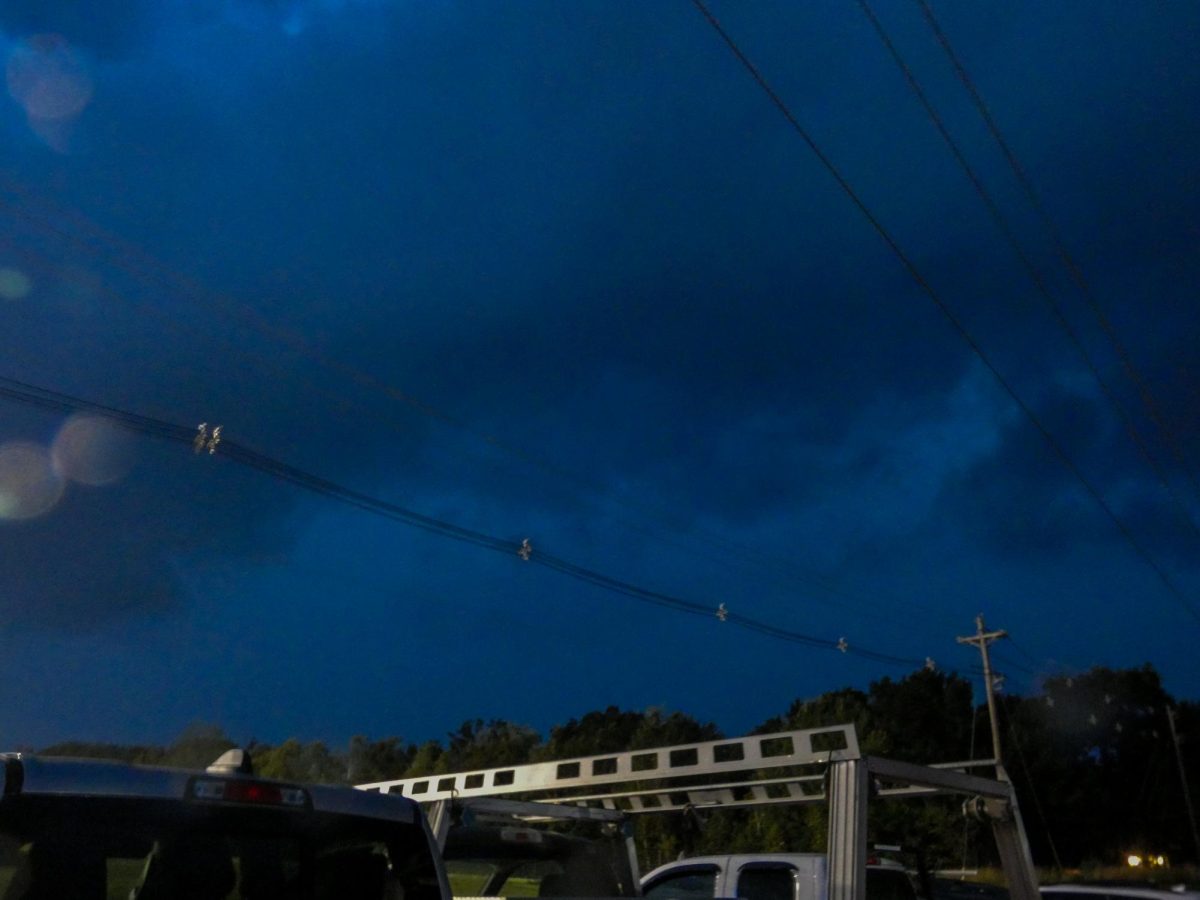 Students and staff recalled the run-to-the-parking-lot rush at school dismissal between flashes of lightning. Half an hour later, heavy downpours delayed buses and dismissals at the middle and elementary schools. Yet, there was hope that the storm would subside before the football team took the field.
Both Varsity Volleyball and Field Hockey had taken home clean sweeps with their openers. Although FH got cut short due to rumbles of thunder, Hudson Athletics Twitter page expressed their ambitions that the Football team would pull out a win and make it 3-0 for the night.
Judging from last season's closing game, which was played through a rainstorm, some fans thought it may be possible for the game to proceed anyway. But it should be noted that the final playoff had only rain and no lightning.
"Last year the rain game was so much fun," said junior Abi Stone, who was in the student section at the time. "It didn't even get cut short."
But regardless of the high energy of the Red Sea, those on the field relayed a different story last November. Four separate players faced injuries during the game, one of them even including a broken collar bone. All of these factors eventually led to an ultimate loss and the end of the 2022 season.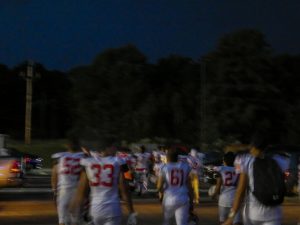 So last weekend, it seemed the team was off to what seemed like a similar start, only this time they faced multiple delays and a reschedule. According to the Lightning Safety and Outdoor Sports Activities protocol set by the National Weather Service (NWS), it's advised that games should "…stop the activity immediately." In that case, the game can then resume "…30 minutes after the last thunder."
Starting with a single 30-minute delay, Clinton Police began escorting fans to safety, off the field and back to their cars, while players stood in wait around the clubhouse. But with signs that skies wouldn't be clearing up anytime soon, it was decided that the game would be postponed to the same time and place on Saturday (9/9). The game proceeded after yet another 2 delays the following day, resulting in a win for the Hawks 26-14.
In spite of all that, the entire weekend still opened up a broader question: What's going on with the weather?
On account of Hurricane Lee, the frequent thunderstorms of September have shaken up New England's Coast; heavy flooding in Bristol County, sinkholes in Leominster, and one high school press box was blown into the bleachers. Now, even Hudson Fest has been canceled to avoid the storm.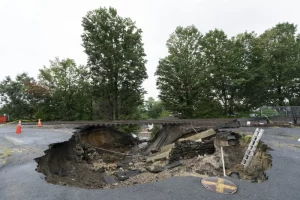 But it gets deeper than just one hurricane.
These days, it is common knowledge that Climate Change has been annually increasing the temperatures. But it isn't simply an increase in temperature as most commonly view it: It's called Climate Change, because the climate is changing. Not just temperature. 
Up in New England, the extremities of the climate crisis obviously havent hit us as hard as places that were already hot to begin with. States that undergo frequent hurricanes and tropical storms are states that are generally down toward the Ecuator and closest to warm oceans- for America, the states of the South.
Whereas in the North, towns experience snowfall and cold winters, turning on the A.C. will get someone through a hot day, and the fatal storms that tear through the South, rain out our Friday Night Football games. 
But the traits of the North have been slowly changing. And the reason is simple: Hurricanes form in hot places. If the planet gets hotter, the likelihood of a hurricane forming grows not just for those closest to the equator, but for those everywhere.
That's us in Massachusetts.
The Weather Channel reports that across the state, cities are facing humidity of 98% and temperature spikes in the high 80s occurring almost daily. And as the Fall season kicks off, this has been leaving many athletes wondering how this weather will affect their season.
Besides the Varsity Football team, other teams have faced interruptions these past weeks because of the recent climate. Besides FH's game getting interrupted by thunder, both Boys and Girls Varsity Soccer teams have faced rescheduling for both games and practices. 
"This is affecting our season," said Savannah Gao, Captain of Girls Varsity Soccer. "These practices are crucial… We have around three games per week."
Our indoor teams are no different. It appears that teams based in the gym share similar stories.
When the Girls Soccer team had to relocate their practice to the gym in order to escape the boiling outdoors, Gao added that, "It was still very hot since the gym has no A.C.."
The Cheerleading and Dance teams, practicing almost every day in the dance room where the only source of cool air is a single fan and a few open windows, are all too familiar with this matter. Many of their practices have resulted in cancellations and shortenings.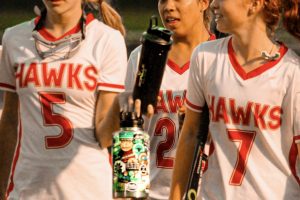 "The fan helps," expressed Dance Team Captain Lily Starner, "but, most of the team gets headaches. Our coach lets us take breaks, though, to make sure no one passes out or gets sick."
So what does this mean for future sport seasons?
Quite literally, Global Warming is expanding the summer weather we're used to entirely. CBS News says Summer is getting longer, meaning Fall, Winter, and Spring are shrinking.
If Earth's rate of annually growing hotter continues on its path, evidently, the need for rescheduling and postponing outdoor sports will only increase with it.
Experts have been warning the public that with our constantly changing climate, outdoor activities should prepare for a change in schedule. Not simply postponing games when needed, but moving around seasons entirely to avoid the dangers that come with working out in extreme heat: The United States Environmental Protection Agency (E.P.A.) states that children are more vulnerable to heat than a full grown adult: Meaning dangers like heatstroke and dehydration are more susceptible to young athletes.
As brutal as this weather is affecting athletes' lives, this crisis isn't about high school football and cheerleading practice. This crisis is about our planet and the fate of of globe.