Replenish with Tree Plenish
209 trees were planted by members of the Environmental Club and Interact Club as part of their Tree Plenish program on Saturday, April 9. 
Aided by volunteers, the groups went out and planted the trees to the people who purchased them. They sold saplings of different trees for planting or pick up for $5.00. They offered different types of trees consisting of Sweetgum, Flowering Dogwood, and Northern Red Oak. 
"Our advisor Mrs. Smith came to us with the idea, which I'm super grateful for because we wouldn't have found it otherwise. I think she was looking for us to take on a large project, and tree plenish offered that to us!" Said senior Ainsley Majer.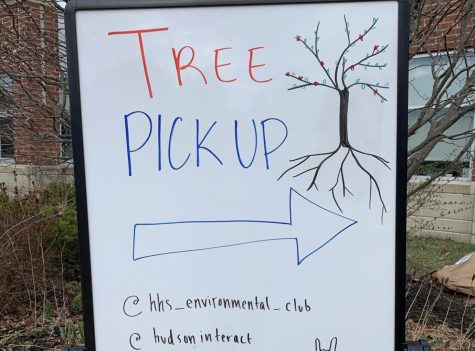 "They got nice trees at a really good price and the people that had had them come to the house, they did a great job," said science teacher Rita Smith.
Although they didn't meet their goal of 230 saplings, they came close when 209 saplings were purchased. The reason behind the goal was that the groups found that Hudson Public Schools uses a minimum of 230 trees worth of paper a year for different things such as printing tests, posters, etc.
"We didn't meet our goal, but for our first time we were definitely not expecting much," said Majer.
Hudson residents could have the sapling planted at their house. For those who do not live in Hudson, the option to purchase and pick up a sapling was available. At pickup, there were both business cards and QR codes that helped show how to plant the sapling.
"It went really well, aside from some bad weather," said sophomore Thuy-Tien Nguyen, a member of the Interact Club, "I really loved when people picked up their trees and became excited about the event," said Nguyen.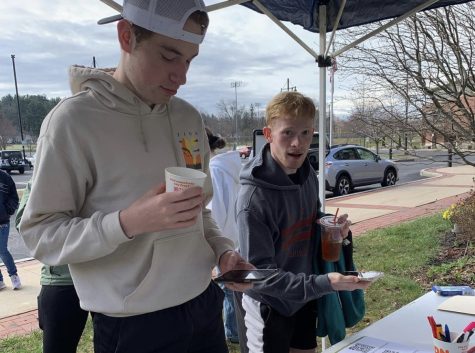 Other than the Tree Plenish event, Interact and Environmental Club have also been working on other things. Interact Club is working on a trivia night for Hudson High while Environmental Club has started recycling again at HHS.
"I was very glad I did it, most of the people picking up the trees were so excited and they wanted to start planting," said Smith. "People were really happy with it so it worked out nice," she continued.