Heat Wave Headache
Students React to This Week's Heatwave
With rooms spiking to 93 degrees today, many teachers and students fled the hot classrooms to find relief in cooler areas.
If you walked upstairs through the F or G pod today, you would see many empty classrooms. Most classes have moved to the library or were sharing rooms that have A/C. The average temperature of those rooms was 84 degrees, with the highest recorded at 93 degrees. The stairwell of the G pod was 99 degrees.
Massachusetts has been in a heatwave since Saturday, June 5, with temperatures reaching 93 degrees this past weekend in Hudson. The heatwave is predicted to last five days through Wednesday.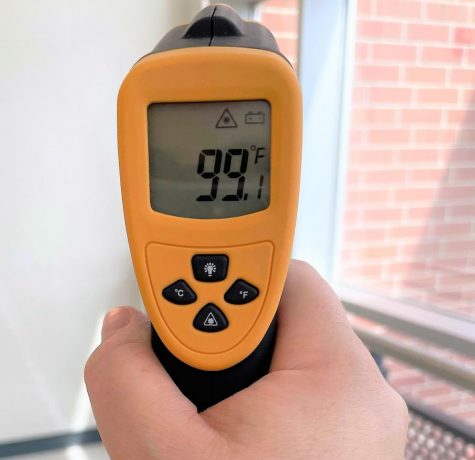 According to the Massachusetts Code of Regulations, classroom temperatures should fall between 68 and 80 degrees.
For the students of Hudson High, the heatwave has been a nightmare. "I'm not able to focus," said Mary Stefanski, a junior. "It makes me sleepy. It's a very big inconvenience."
Sophomore Eve Speredelozzi also noted not being able to focus. "I cannot concentrate on anything," she said.
Many students walked the halls dripping in sweat. "I was sweating so bad," said eighth-grader Cam Yates.
 "I'm very sweaty and sticky," echoed Angelina Sousa.
"It feels like I fell into a massive puddle," Spanish teacher Steven Sacco said, regarding his armpit stains.
Some teachers found more relief in the shade, such as Donna Mongeau's precalculus class. "We're learning outside because it's too hot inside," said junior Ava Fistori.
"The heat is awful, but outside isn't that bad," junior Taygan Lewis said. "The gym and my math class in G pod had the worst heat so far."
After years of diligence and data collection from staff and approval from voters, the high school is slated to be fully air-conditioned this summer with units being installed on the roof. In a year that was anything from normal, it seems on-trend to end the year with a massive heatwave.
"I'm really looking forward to getting A/C in the summer," said assistant principal Dan McAnespie.
"We are very much looking forward to the A/C," echoed principal Dr. Jason Medieros.
Until then, facilities and admin will do their best tonight to drop the temperature to mitigate the heat for tomorrow.
Many teachers have offered up their air-conditioned rooms to classes located in the sweltering F and G pods.
Senora Malfada Moreira, a Portuguese teacher, is planning on spending her entire class in the library in the upcoming days. "It's gone up to 88 [degrees] before," she said.
"We're going to be moving to room S204 to share a classroom because the temperature is making us sick," Senora Andrea Boure said. "I've used my inhaler twice today already."
Some students commented that the heat makes breathing difficult. "It's even more difficult to breathe with a mask on," said eighth-grader Maria Barbosa.
"As someone with issues possibly related to the heat, it sucks," said Jacob Curtis, a sophomore. "It's not fun."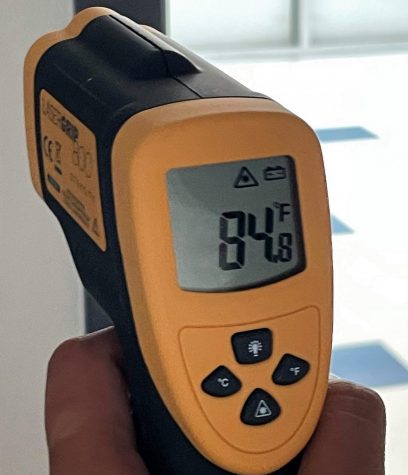 "It's miserable,"  said Lauren Schiavone.
However, not everyone bemoaned the hot temperatures.
"The heat doesn't affect me that much," said sophomore Charley Diaz.
"I understand that this is poor for learning, but many houses don't or can't afford A/C. Central air and window units are not a given," said English teacher Andrea Haapanen.
Regardless of the viewpoint, the past two days have been a challenge to many.
"The humidity is a lot worse than yesterday," said junior Alex Crogan, "Yesterday was a more dry heat. Just leaving for a mask break was insanely hot." 
"When it's hot it's brutal," said freshman Alyssa Davis.
*Update*
Since press time, the school has worked with facilities to assuage the high temperature by closing stairwell doors, strategically placing industrial fans to circulate the A/C.