HPS responds to the Hudson Water Crisis
Students and staff arrived at school the Monday after April vacation to water fountains covered in plastic. As the rumor mill began to churn, the fountains were uncovered later that day. Clarification was made that afternoon from Dr. Marco D. Rodrigues in an email to the staff.
"Town officials have been actively engaged in addressing the drinking water issue in Hudson," the email began. "The Town is developing a new water system filtration for one particular well to maintain the standards drinking water quality," the email to staff read.
The issue stems from the presence of Per- and Polyfluoroalkyl Substances also known as PFAS toxins being present in a January Hudson water test. Though Hudson Water consumers have been told that the PFAS levels are at a safe level, the district has erred on the side of extra care.
"Additional measures are being taken as an abundance of caution and in response to parents' concerns," Rodrigues said.
As the town of Hudson develops a new system to ensure the quality of the water, HHS students and staff had access to an alternative water source the following day as Poland Spring water dispensers were placed throughout the cafeteria and gym area.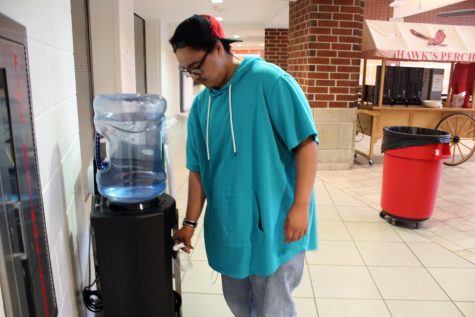 PFAS substances are man-made chemicals used in many consumer products. They are no longer being produced in the U.S., but are produced internationally on products that can be imported. They can be found in food and other consumer products such as nonstick cookware, firefighter foam, carpets, rubbers and plastics in a large quantity.
Starting in 2016, the Town of Hudson has been sampling water quarterly to monitor the levels of PFAS.  A sample collected on January 24, showed that the chemicals in the water were at 76 parts per trillion, above the drinking water guideline of 70 parts per trillion established by the MassDEP Office of Research and Standards (ORSG).
According to the Massachusetts Department of Public Health (MDPH) long exposure to these chemicals can cause problems in liver and kidney function and change hormone levels.
Hudson residents have been exposed to a low level of PFAS. However, it's important that pregnant women, nursing mothers, and infants should not consume water in which the levels of PFAS are above 70 parts ppt. Drinking and cooking with bottled water is also recommended.
On April 18, a Hudson Water Forum was held here at the High School by State Representative Kate Hogan.
"The goal for every person here is clean water," said Hogan.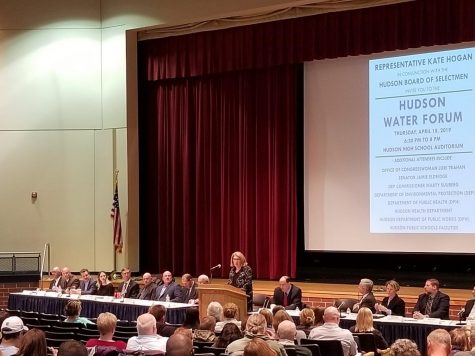 The forum continued with experts in the area.
"These are forever chemicals,"  said Department of Environmental Protection Commissioner Morty Suuberg, as he explained PFAS to the audience. He echoed a Massachusetts Department of Public Health report that states there is no conclusive evidence that the long term exposure to PFAS in can lead to cancer.
Yet, according to the EPA reports "There is suggestive evidence that PFOA and PFOS can increase the risk of cancer." PFOs and PFOS are fluorinated organic chemicals that are part of a larger group of PFAS chemicals. Both the EPA and the National Toxicology Program are researching the potential for cancer connected to PFAS.
During the audience Q&A portion, Melissa Ansley, a current Hudson resident, asked the forum " We are still potentially drinking water that is unsafe. Is there science around how we are protecting ourselves or how we go from here? When these chemicals are not going to be out of our bodies for at least eight years?"
"Unfortunately we don't know of any medical treatment that can remove PFAS from your body. The best way to remove it is to minimize exposure," Department of Public Health Environmental Analyst Jessica Burkhamer acknowledged Ansley's question that the half-life of these compounds is a long time.
"There are blood tests for PFAS, however right now they don't tell doctors if you should have a sort of treatment if you're exposure could be from water, food or something else," Burkhamer added.
As the town finds solutions, the concern of Hudson residents rises.
"I think communication could have been better, it scared a lot of people. Many are feeling uneasy even though they're telling us the levels are safe," school nurse and Hudson resident Sue Bowen said.
"I'm a little concerned because from what I understand, this has been a problem for a long time, but the people who live in the town weren't told until recently," school nurse and Hudson resident Pat Emmons said.
"While we're making these efforts now to fix the problems, I worry about the months we were all possibly drinking contaminated water," Emmons reflected.
To put residents at ease, State Rep. Hogan announced on her Facebook page on April 23 to Hudson Water Customers that "Your tap water meets all current quality regulations and is within all current health advisory limits. However, if you are interested in receiving bottled water, the Town of Hudson will be offering complimentary drive-in pickup."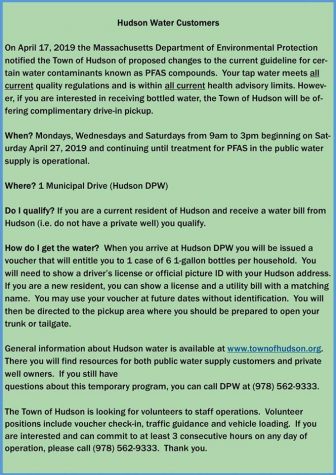 Eighth-grade student Connor Madden and his family have been picking up the six gallons of water that the town is offering weekly to Hudson Water customers.
"I don't want to drink the tap water," Madden said.
Hudson High Physics and Astronomy teacher Reed Prior, who was a former CEO of nine meditech and biotech companies in his previous line of work commented on this issue.
"This does happen, we have companies that exist all over the world that have to use chemicals in their processes, being a former CEO myself in corporations that used a significant amount of chemicals, managing them is difficult and challenging."
Many residents of the town are concerned, while others feel it lead to panic.
"It's an issue, but also, I think we shouldn't overreact," Prior said, "I think the town is taking an aggressive stance to look into this."
Detective Seamus Veo, also said the town took timely action.
"To my knowledge, as soon as they found out about the problem, they alerted the people, and then they gave their immediate action which was to shut the pump down, They provided us with a plan."
About the Writer
Julia Gigliotti, Staff Writer
Julia Gigliotti is apart of the class of 2020 at Hudson High School. This is her first year being a part of the Big Red. Julia enjoys writing all kinds...