The Most Unique Chester Bliss
May 21, 2021
As the sun cracks through the curtains on an early Monday morning, a typical routine has begun: breakfast, brushing teeth, soon getting dressed. Buttoning up a yellow dress shirt, tucking in a red handkerchief, and topping it off with a cowboy hat; senior Chester Bliss, dressed as Woody from Toy Story, is now ready for school.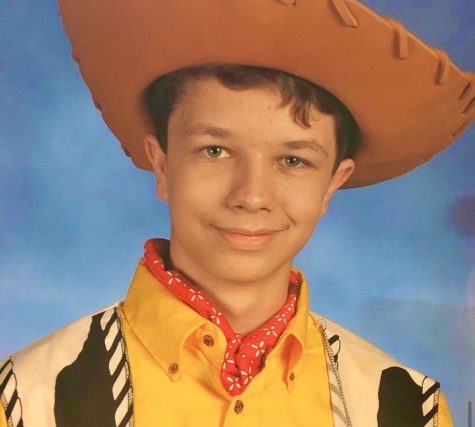 "It feels about the same as putting on an ordinary pair of pants to me," Bliss said.
Throughout his high school career Bliss has graced the halls with a variety of costumes, ranging from an outfit resembling that of French military leader Napoleon to Mario getting a piggyback ride from Luigi.
"I would just randomly think of something to wear and then I'd wear it," said Bliss.
These outfits have caught the eyes of many.
"People usually stare at me out of the corner of their eye or they turn their head really fast and look away," Bliss explained, "like they saw something they shouldn't have."
Despite the initial reactions, Bliss doesn't hesitate when it comes to sporting a new outfit.
"I remember Señor Sacco saying Chester would be the next Charlie Precourt" senior Alyssa Bowler recounted, when "he showed up to school in a huge astronaut outfit last year."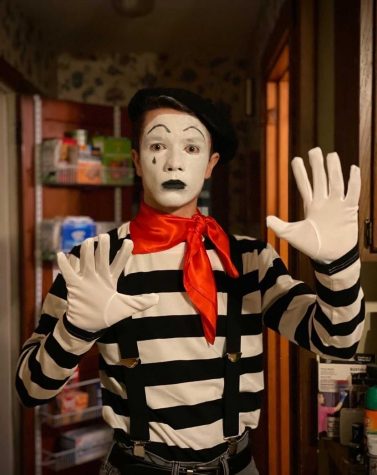 Other teachers had commented on this outfit as well.
"My favorite memory of Chester was the day he appeared in class in a full blown spacesuit… literally… he carried an air pump that kept the space suit inflated all day," physics teacher Reed Prior said, "He looked like a Pillsbury doughboy astronaut!"
"I really liked pulling off my astronaut costume to reveal another astronaut costume," Bliss remarked on his outfit for Around the World day of Spirit Week, a day initially intended for people to show off different cultures.
But Bliss's unusual attire isn't limited to the week everyone dresses up. He has had annual outfits for school picture day.
"The picture day people in the last two years have been mad," Bliss elaborated as he has dressed up as Napoleon and a mime, "But the first year they were fine," as he dressed up as Woody.
 One day he transformed into Spanish teacher, Stephen Sacco.
"I wouldn't say I knew Chester all that well when he first cloned me. He was quiet and not an attention-seeker. So it was shocking when I ran into my doppelganger in the hallway, I think before even knowing what he was plotting. His self-transformation was a parade example of Chester's creativity, brilliant sense of humor,  and capacity to execute," Sacco said, "Like him, this performance was unique, funny, and clever."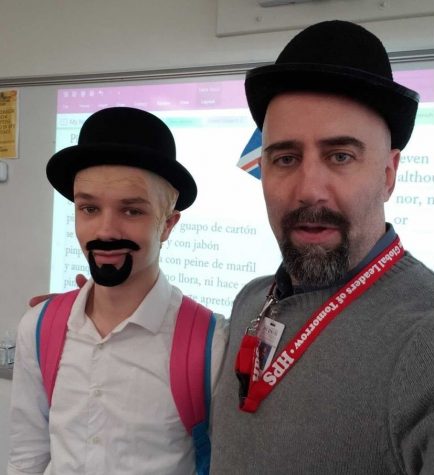 His unique outfits aren't the only elements that make Chester's presence notable.
From putting a multitude of flip phones into his assigned cell phone holder to screaming on a Google Meet, any class can become a memorable one.
Current events are a required presentation in many history classes; Bliss had presented on an event relating to Climate Change, but instead of simply listing all the countries affected, he decided to sing Yakko's World from Animaniacs.
This event left many students in awe.
"What's that one meme?" senior Matt Baker asked as he recounted the event, "It's like, that crazy son of a bitch, he actually did it."
Even those who haven't shared classes with him note his uniqueness.
"The thing that stands out about Chester is him not being afraid to be completely himself," junior Kathryn Mattocks said.
But it's not solely his creativity that sparks his ideas.
"I started dressing up because people used to steal my jokes a lot when I would say them, which was frustrating, especially if it's not something I wanted shared," Bliss elaborated, "So I decided to cut out the middleman and give all to everyone always."
Bliss continued, "Everybody gets the joke now, and as a great man once put it: everybody can't turn around and tell everybody. Everybody already knows; I told them."