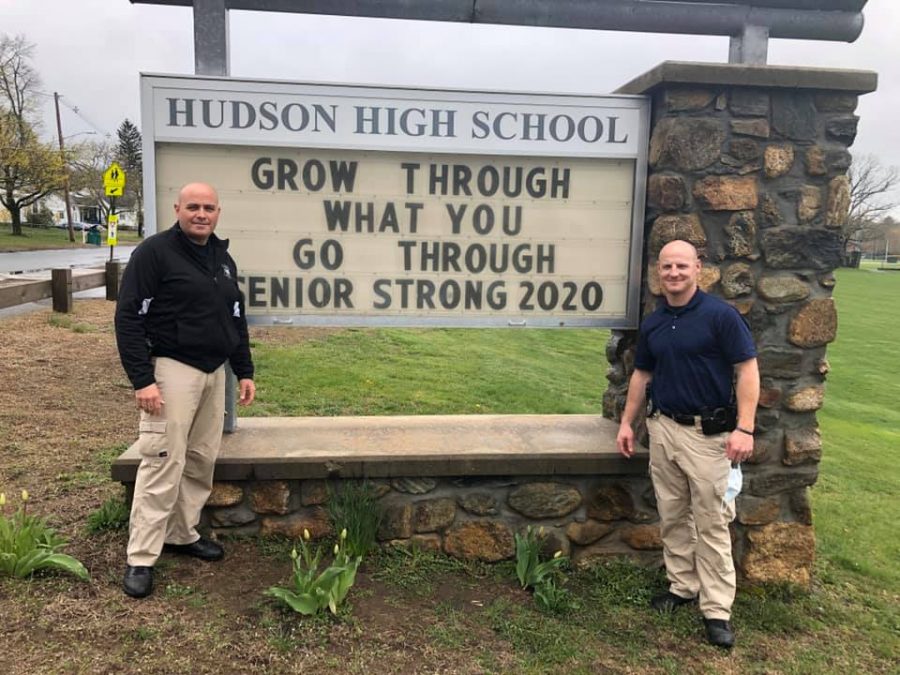 Hudson Police Department
COVID-19 has turned everybody's lives upside down. It has taken students out of school, many people out of jobs, and thrown everyone into uncharted waters in the span of two months.
In our own Hudson High community, we have adapted by shutting down schools for the remainder of the year. The transition back into doing schoolwork has begun as students and staff work on remaining engaged.
"I do love hearing from the teachers I miss because it helps me feel connected to them," says HHS freshman Bryana Miranda.
But school is more than just academic work. As students work to adjust to what seems to be the new normal, students and staff have stepped up to bring everyone together and show support and love for one another in these universally challenging times.
One example is the HHS Spirit Committee encouraged HHS students and teachers to send in pictures of them in their Hudson gear to be posted on their Instagram. The Instagram account is run by HHS graphic design teacher Arianna Ciesluk, who is the Spirit Committee advisor. Dozens of entries were submitted, depicting everyone in festive red and white while in self-isolation.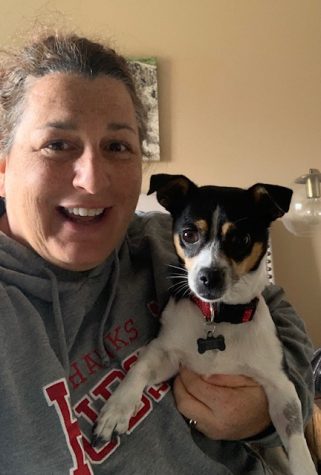 "I think it gave us some sense of normalcy, even though nothing about this is normal. We usually have some sort of spirit week during the spring. I wanted to evoke that feeling," says Ciesluk. "Seeing other people dressed in their red and white definitely made me feel connected to others. I hope everyone else felt similar. A bit less isolated and a bit more connected."
Though everyone is struggling right now, high school seniors are especially experiencing loss. Prom, graduation, and other milestones have been canceled or postponed indefinitely in order to flatten the curve of COVID-19.
Seniors Ben Carme and Julia Terra-Salomão began an Instagram page What's Next HHS 2020 (@whatsnexthhs2020). There, they announce different colleges individual seniors have committed to, as well as their majors in a colorful collage of pictures. Comments of the seniors' peers roll in, wishing Hudson High graduations congratulations and love on each post.
"When you are a senior, there is a sense of pride that it attaches with showing off where you're going next, Julia and I are frustrated that we couldn't have sweatshirt day, so we thought [the account] is the next best thing," said Carme.
"It's a nice way for families to keep in touch with the 'who's going where' factor that exists with college and career decisions. It's sort of the last thread we're hanging onto to keep in touch and update each other." Carme encourages members of the HHS community to "give them a follow!" to support seniors.
As for the cancellations of school events that seniors typically get to experience, Carme says, "To be honest, it's a tad upsetting, but overall, what can you do? It's the right call to protect family and friends."
In addition, media and technology teacher Lynda Chilton and staff created two videos to show solidarity among the Hudson High community.
"Putting the two videos together for Hudson High really helped pull me out of a state of sadness and creative slump. I think all of us were having the same feelings of hopelessness and I really wanted to let the students know that we would get through this together," said Chilton. Organized by history teacher Pam Porter, Chilton received over 50 clips for the first video and over 80 clips for the second video.
"The clips arrived by email, text, and social media. Everyone wanted to help," said Chilton. "It motivated me to do the best I could and stay focused, even if that meant driving a few miles away to sit in a Dunkin Donuts parking lot to get better WiFi."
The first video addresses all grades, encouraging everyone to stay positive and engaged while out of school.
After watching the video, sophomore Gillian Harris was touched by the gesture. "I think it was really sweet of them," she says. "It's another reminder not to take things for granted."
The second video is directed at seniors only, uplifting and reminding them to remember the good experiences and relationships forged through their time at Hudson High School.
"As a senior, the video was the send-off I needed, knowing my time at HHS has officially come to an end," said senior Nicole Breton. "Seeing all of my teachers together was touching. I now realize how much I'm going to miss high school and all the teachers who made my 3 ¾ years there special."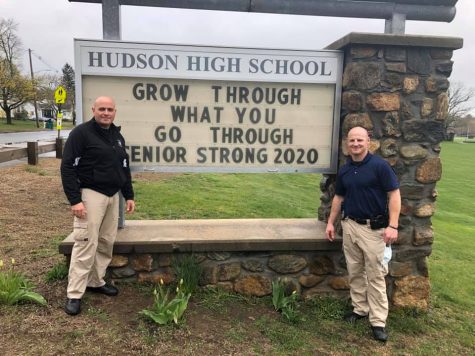 Other acts of kindness included the Hudson Police department School Resource Officers Detective Chad Crogan and Detective Shamus Veo changed the Hudson High signboard this morning to support the Seniors. Their message stated, "Grow through what you go through."
The school counselors began a You Uplift page. The Digital Kindness Wall is a scrolling wall that updates every 10 minutes. In an email to the HHS community, school counselor Kerry Bartlet said that counselors were inspired by the videos the school produced. Positive messages can be directed towards a specific student, staff member, or just general words of encouragement.
"We wanted to provide a platform for positive messages to be shared with the HHS community to bring us close while we're apart," said school counselor Karen Botcheller.
Making the best of this situation by looking on the bright side of things (future opportunities, seeing loved ones, etc.) is what is getting everyone through self-isolation. Different members of the HHS community have made an effort to spread positivity, and it hasn't gone unnoticed.
"It's important to realize that even when there are ups and downs, we are a close community that do care for one another," says Ciesluk. "I was hoping [school spirit] would be a simple way to show that we were all thinking of each other."