German Students Experience Hudson Lifestyle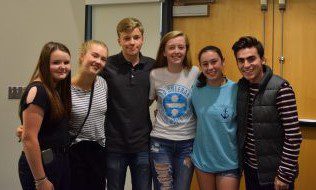 Hang on for a minute...we're trying to find some more stories you might like.
by Colleen O'Malley and Paige Thomason
The tradition of the German Exchange program continued at Hudson High this September.
Every two years, students living in Germany experience life in Hudson as well as the history of Massachusetts by going on field trips in and around Boston and attending classes with their hosts.
Students and their teachers, Sven Wendlandt and Janina Blaumeiser arrived on September 16 from Helmstedt, Germany. During classes with their host students, they partook in discussions and activities. They also traveled to Boston, The New England Aquarium, Lexington and Concord, Plymouth Plantation, as well as the Hudson Fire Department,
Hudson host students will travel to Germany over February break for ten days, touring major cities and sites.
Just an hour before the Germans departed, a going away party was thrown in room F-101 by German Exchange Coordinators Gretchen Houseman, Whitney Nielsen and Emily Smyth to celebrate the experience.
The group was able to connect with someone from a different country one final time. Students reflected on their stay.
"The experience was pretty insane, I thought it was going to be worse" said German student Janne Schinke.
Many German students felt the same as Janne, and felt very welcomed into the school.
"All the people are nice to you, my favorite part was hanging out with everyone"  said German student Johannes "Saperin" Stachlewitz
The German students explained how different living in America compared to living in Germany.
"American flags are everywhere… also, it is not normal to have green hair in Germany" said Johannes  Stachlewitz "The classes are only 45 minutes from where we are".
Something that surprised Janne Schinke was that "Everyone is on their phone in the car".
Both students agreed that their overall experience was full of "nice people" and a typical day in Germany was much different than a day in the life of a typical American.