Teachers Try New Electronic Hall Pass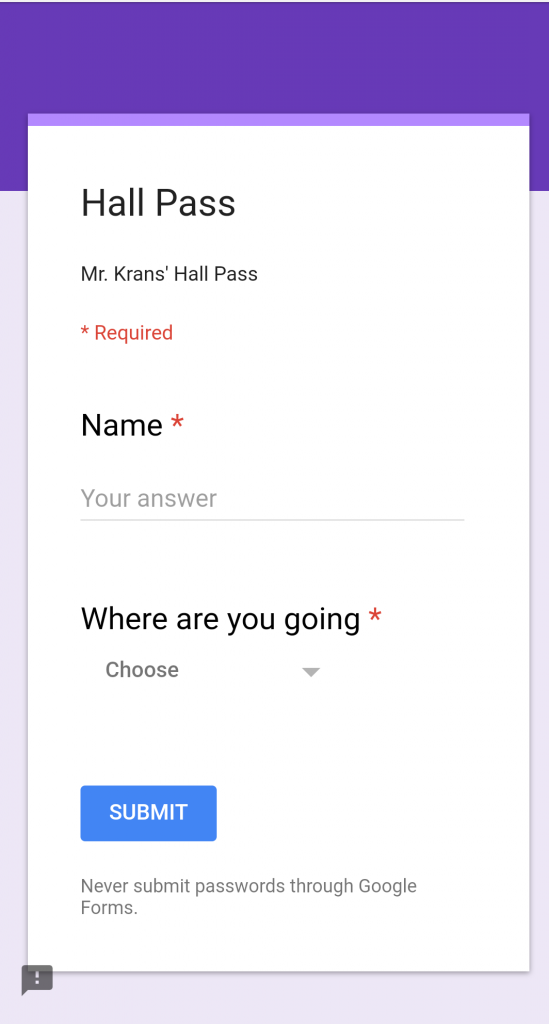 March 7, 2018
Filed under News
Hang on for a minute...we're trying to find some more stories you might like.
by Jason Meserve
Recently math teachers Mark Krans and Cary Schwartz have been experimenting with an electronic hall pass. The hall pass is a QR code that takes the student to a Google form. Then the student puts her name in and the place she is going. When she comes back, she puts her name in again and selects "returned to classroom." The teacher receives a message with the time the student went out and the time she came back. This is a Google form, so it doesn't cost any money, and students don't have to write out or carry a hall pass. It can also track how many times a class goes to the bathroom.
"This is potentially a better alternative to the regular paper hall pass because you can save paper, and there doesn't have to be any interruptions during class," Krans said. If a student does not have a device, then she will have to resort to using a regular paper hall pass.
Krans started the electronic hall pass on February 6. He so far hasn't thought of presenting the idea to faculty, but he would if administration wanted him to.
There are a few problems with the hall pass. Students might not be able to connect to the internet, they could lie about their name or where they are going, or they might not have a device. If the internet isn't working, then a student could use mobile data to get to the website. To prevent people from lying about what their name is, they need to have their Google account signed in with the device they're using. Krans still thinks the Google form is "a few years out for improvement, but so far it's working well."