President's Rhetoric Highlights Need for More Media Literacy Classes
Hang on for a minute...we're trying to find some more stories you might like.
by Clement Doucette
In an interview with conservative commentator Mike Huckabee, President Trump commented that "the media is — really, the word, I think one of the greatest of all terms I've come up with — is fake."  
During the 2016 election cycle, Russian outlets published news stories to social media websites that were truly fake.  However, Trump took this phrase and distorted it into an attack against mainstream media outlets, particularly CNN and the New York Times.  Of course, national media is not without its flaws; all media is biased to a degree, and coverage on CNN and broadcast news can sometimes be brief or surface-level.  Still, publications such as the New York Times and the Washington Post use fact checking and journalistic integrity.  
While media analysts have described dishonest journalism as  "fake news" for many years, the president's talking points drive a frightening point into the minds of American youth.  Media illiteracy is a serious problem that should be thoroughly addressed.
At Hudson High School, teachers have noted an increase in students' disbelief of mainstream media sources and an inability to find appropriate media sources.  Teacher Amy Plackowski works to include aspects of media understanding and literacy into her AP Language, dystopian literature, and linguistics classes.
"In AP Language, we are looking at rhetoric and credible sources," said Plackowski.  "In dystopian lit we are talking about censorship and the media, what is credible, and what is not.  Even in linguistics, we talk about language and how it can be manipulated.  I think there are a lot of us teaching it."
While teachers have been including these valuable lessons in their classes, Plackowski noted a lack of continuity across departments.  
"If we have a lecture in history or in another class about finding a credible source, students may not be able to transfer that understanding to an English class," said Plackowski. "Then, we have to kind of start all over again talking about what credible sources are."
Plackowski cited the work of librarian Jessica Caron as being integral to finding appropriate sources.  She has been working with students to teach universally applicable research methods and basic media literacy skills.   
"I think this dovetails really nicely with a lot of content.  For example, science teachers can talk about how to tell if a study is a good study.  I think there is definitely room for this," said Plackowski.
Still, there is more to be done.  
Elizabeth Albota teaches an elective class on media literacy in which students learn how to find bias in the media and in research sources.  However, Albota's class has been met with low enrollment and a widespread lack of understanding of media bias from students.
"I think we've just hit a point in America where there's so much information that none of it is making sense to anybody," said Albota.  "I think there is a problem in that my generation is assuming that there are things in place for your generation that are not in place. Your generation grew up with different understandings of information."
In addition to the the generational gap, Albota noted that high school classes generally lack detailed lessons on media literacy.  These lessons often require too much time to teach during her English classes, since students often do not have strong background knowledge about locating media bias.  Still, the low enrollment of Albota's media literacy class and the lack of understanding from students underscores the need for more instruction on this subject.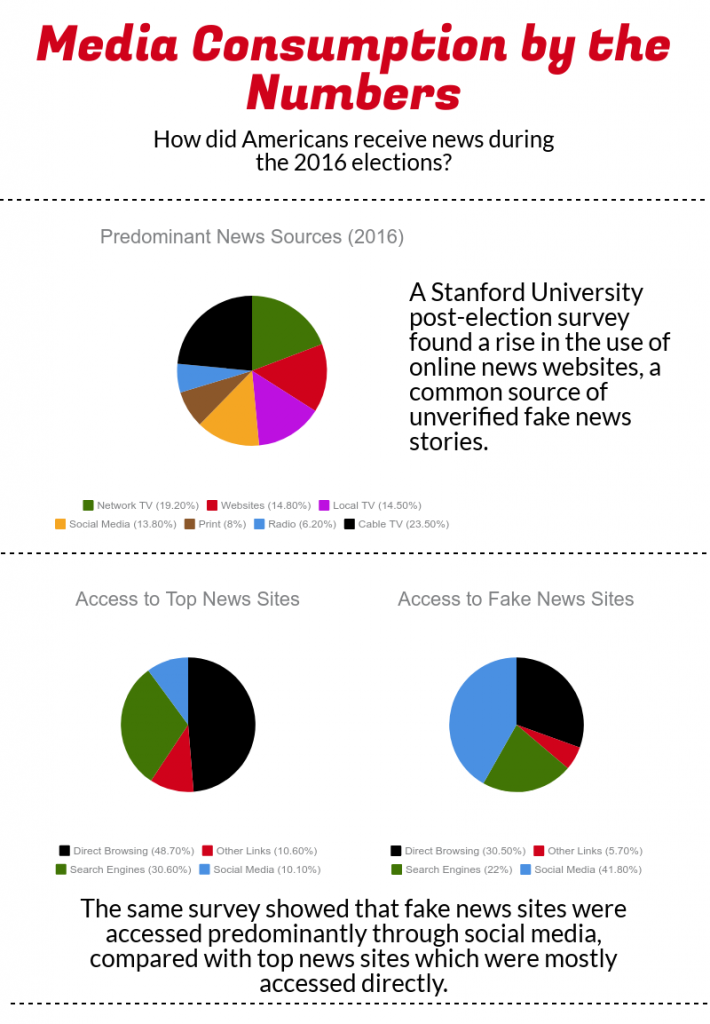 Freshman Bianca Chaves appreciated the idea of increased media literacy lessons and noted that she would have difficulties in locating reliable sources and media bias.
"I've never come across a fake news story before," said Chaves.  "If a story were obviously fake, I would know it, but if it were something that sounded true, I would think that it's true."
Exposing students to a wide range of credible media sources and fact-checking lessons would help to alleviate this problem.  Chaves noted that some of her classmates use the term "fake news" to refer to CNN and other mainstream media sources without knowledge of what the term truly means. It seemed as though these students were repeating sound bites from speeches given by Trump.
"I think these students are saying that CNN is fake news to a point where they are making others believe it," said Chaves.  "I think this is harmful, especially to some students who are new here or who don't know that CNN isn't fake news."
Combatting this misinformation begins with offering students a selection of appropriate media sources and information regarding improper sources.  Clearly, students spreading misinformation is a prime source for fake news misconceptions.  Freshman Josh Czerwinski is aware of current events and keeps track of the news through multiple credible sources.  Although he noted that some sources he views are biased, he does not think that they are "fake news."  
"Oftentimes [the bias] will vary," said Czerwinski.  "I could think that NPR is biased towards one topic, but less biased for others.  It varies depending on the article.  I don't use CNN or Fox News too often, and I wouldn't say that they are fake. I think they are average news networks and are biased towards some topics, but they can be completely reliable and give proven facts."
Czerwinski also noted that Trump's "fake news" rhetoric is harmful and misguided.
"I think it is harmful to call these sources fake news because they can be very reputable depending on what they are talking about," said Czerwinski. "I feel like Trump is saying that if the news is against him, then it is fake.  I know that this did happen and that these are facts."
Although students joke that "CNN is fake news," I experienced difficulty finding students who truly believe this rhetoric.  Still, the need for media literacy is underestimated.  The lack of media literacy at Hudson High School presents itself with subtlety.  In general, students do not believe Trump's rhetoric word for word.  Rather, they consume media without the proper background for finding bias or for fact checking.  
Clearly, classes run on tight schedules. Still, including time for media literacy is of the utmost importance. Making media literacy a mandatory component of the eighth grade curriculum could give students the background they need.  In eighth grade, students are impressionable and could learn harmful misinformation from their peers and older students.  Teaching these young high schoolers about media literacy would give these students analysis skills to last throughout high school and beyond.  Otherwise, misinformation and insidious Russian-bot fake news stories may prevail.