Boys Soccer Finds Positives Amid 4-0 Loss to Marlboro
by Dakota Antelman
Even with almost an entire calendar year separating them from their last victory, the Boys Soccer team found reasons to be optimistic about their future within their 4-0 loss to Marlboro on Saturday.
Saturday's game was both the ninth time an opponent shut out the Hawks offense this season as well as the ninth time an opponent posted four or more goals on their defense. The defense still fought when it was down, however, with goalie Jared Colbert making several saves late in the game and Ryan Kahn racing back on defense to block a shot seconds before the final whistle.
Head coach Phil Barros said that, by doing that, the Hawks were doing something that they had been doing all year but struggling to transfer into game situations.
"We didn't give up," he said. "That's huge for me. Personally, although the whole season we didn't get consistent results, every day these kids came to practice and games ready to play, hungry and ready to improve."
After the game, one of the referees who had also officiated Hudson's second game of the season back in early September, sought out Barros to tell him how much his team had improved between then and the Marlboro game on Saturday.
While Barros admits that his offense has continued to struggle, he says that his team's defense has been crucial in those improvements since the beginning of the year.
"Our keeper Jared Colbert has become very comfortable in net and has come up huge for us of late," he said. "He has made some very good saves. Defensively, we're on the same page. We just need to start clicking offensively."
Sophomore Stefano Maiuri was more critical of the Hudson defense on Saturday.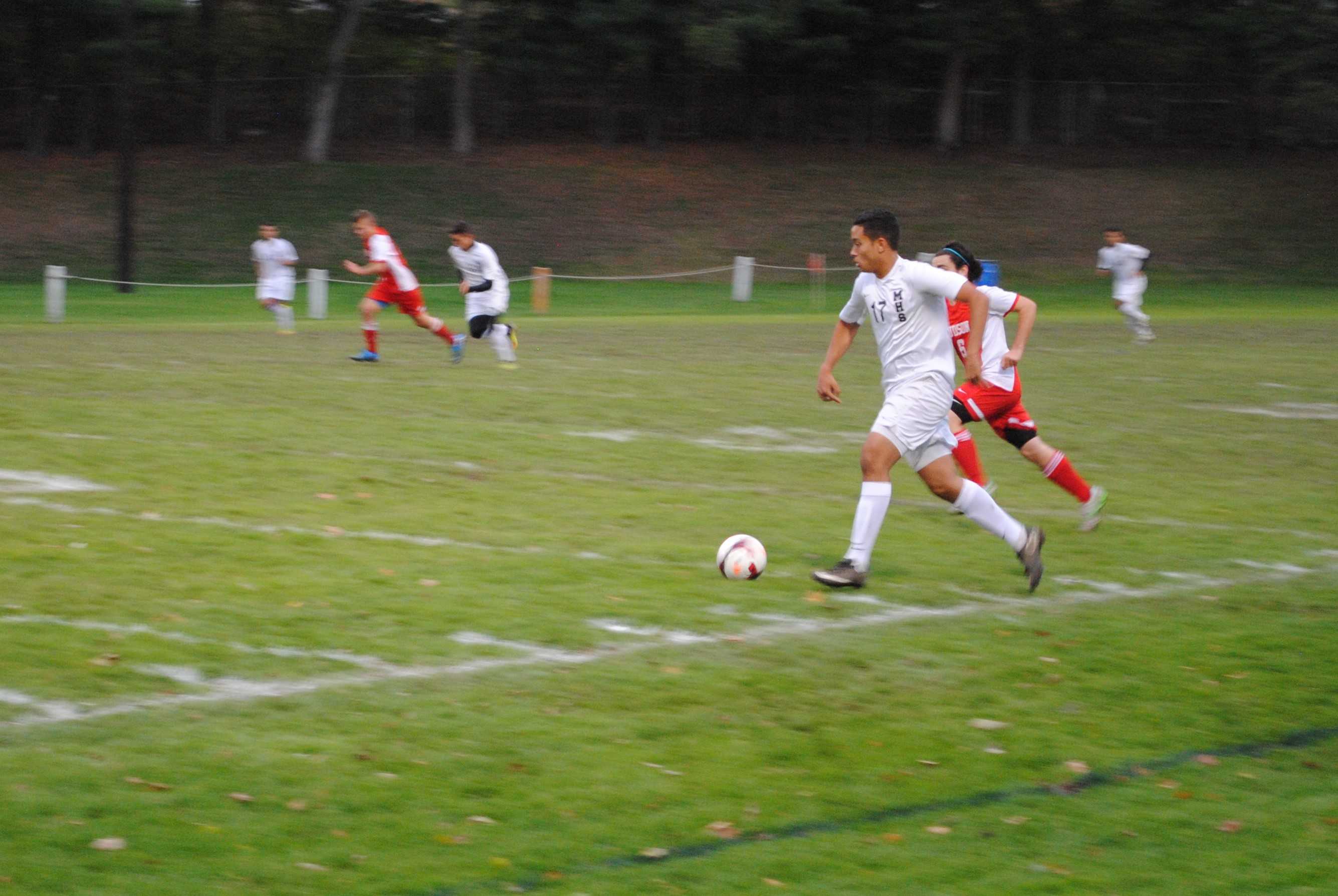 "They were making good runs behind our defense," he said of Marlboro's forwards. "It was too late when we realized they were playing over our defense. They definitely knew how to finish the ball."
Tom Adamson of Marlboro broke the game open in the 18th minute when he pounded a close range shot past Colbert. Vinny Veiga doubled the lead roughly four minutes later when he settled an Adamson cross from the sideline and chipped the ball just inside of the Hudson goalpost. Joao Mendes and Jhonatas Santana would add to the lead towards the end of the first half and early in the second half respectively.
On defense, Marlboro stifled Hudson's attempts at a response, allowing no goals and limiting Hudson shots to such an extent that the playoff-bound Panthers replaced their starting goalie Pedro Guerrieri with backup William Velasquez with well over 15 minutes remaining in the game.
But as they left the Marlboro game behind and moved on to their final game of the year, a home game on Monday against Oakmont, the younger players that dot the current Hudson roster are hoping to put 2016 and games like Saturday's behind them and move into a new year of Hudson soccer.
"This year was a rebuilding year," Mauri said. "We lost most of our seniors that were our starting lineup last year. We're just going to work hard during the off season and come back strong next season."